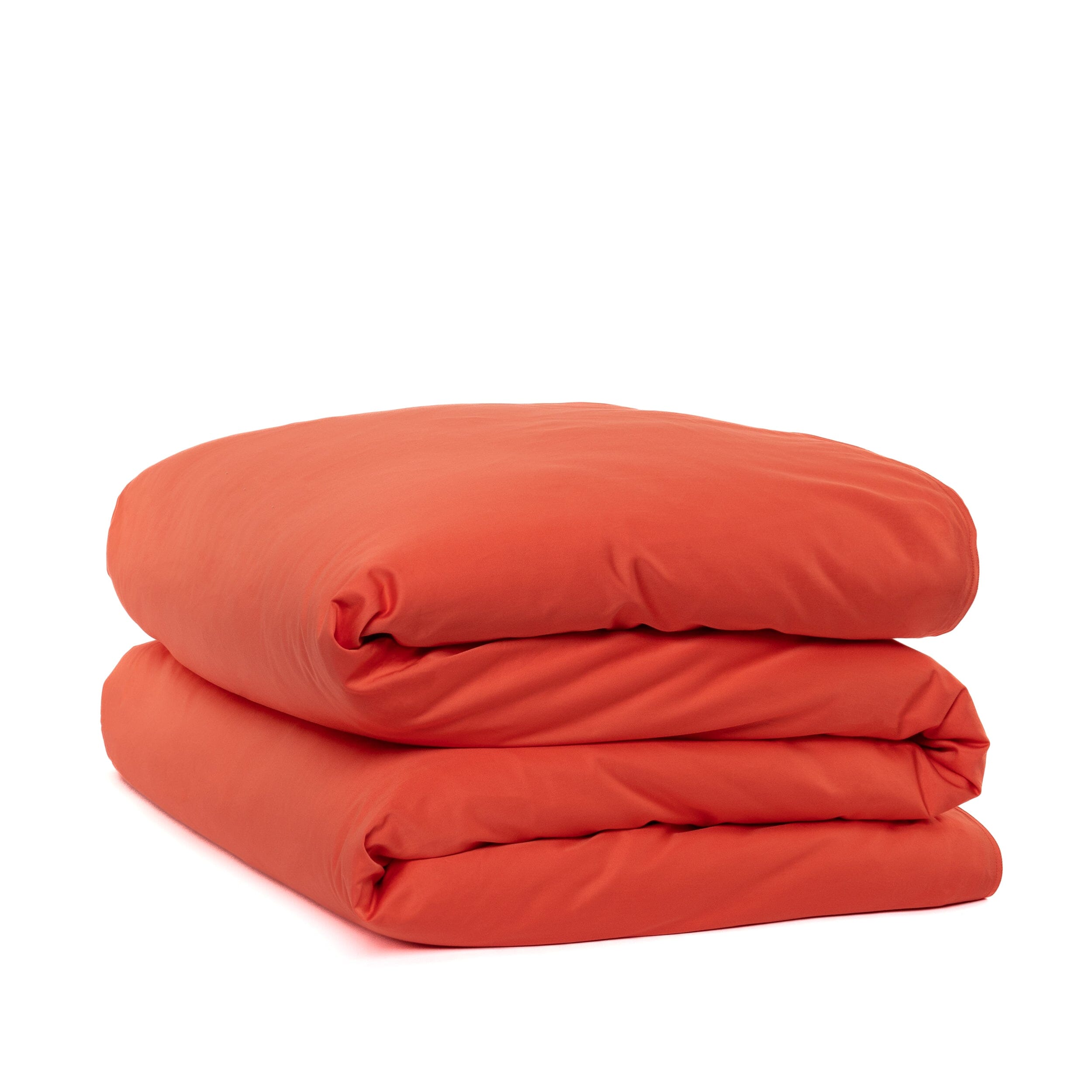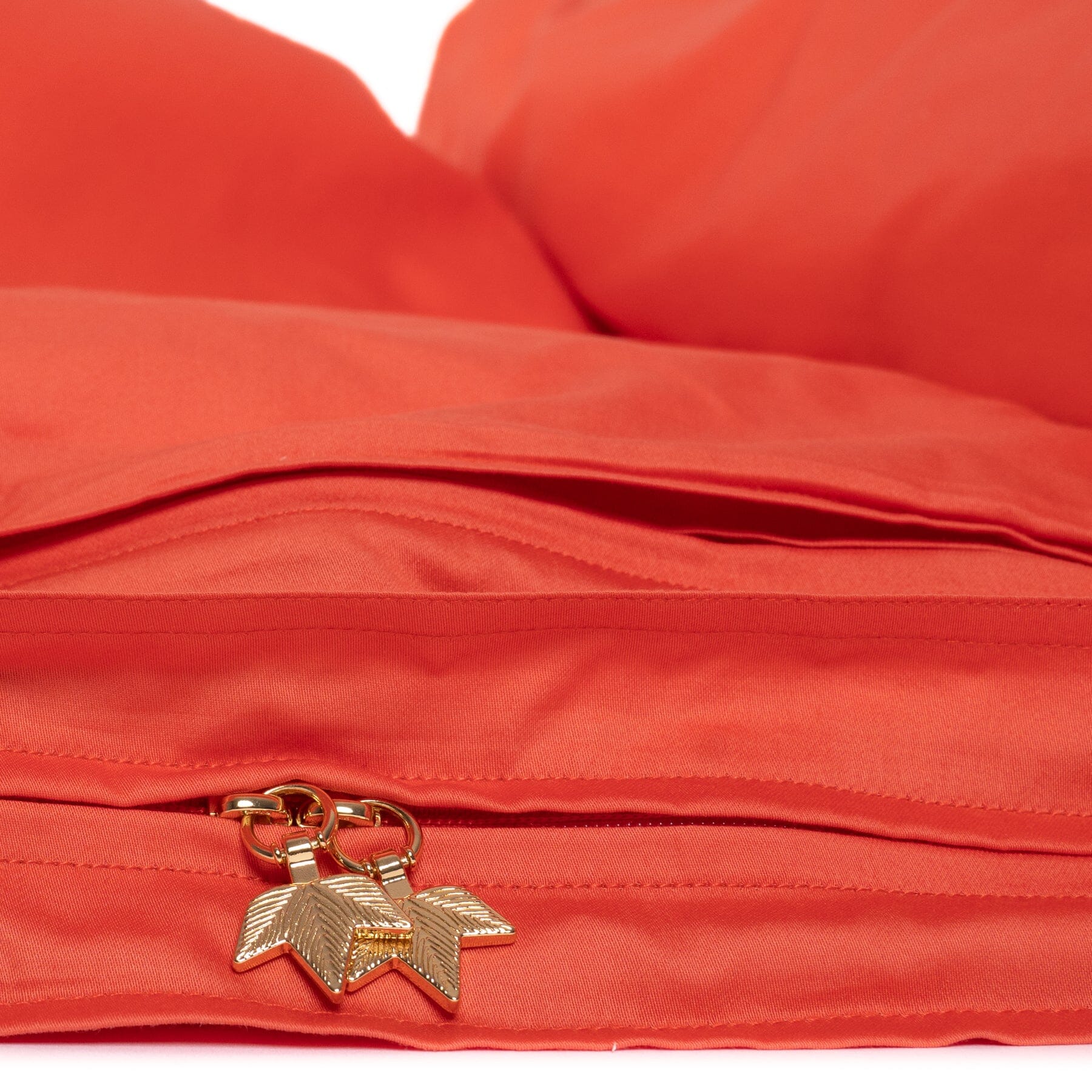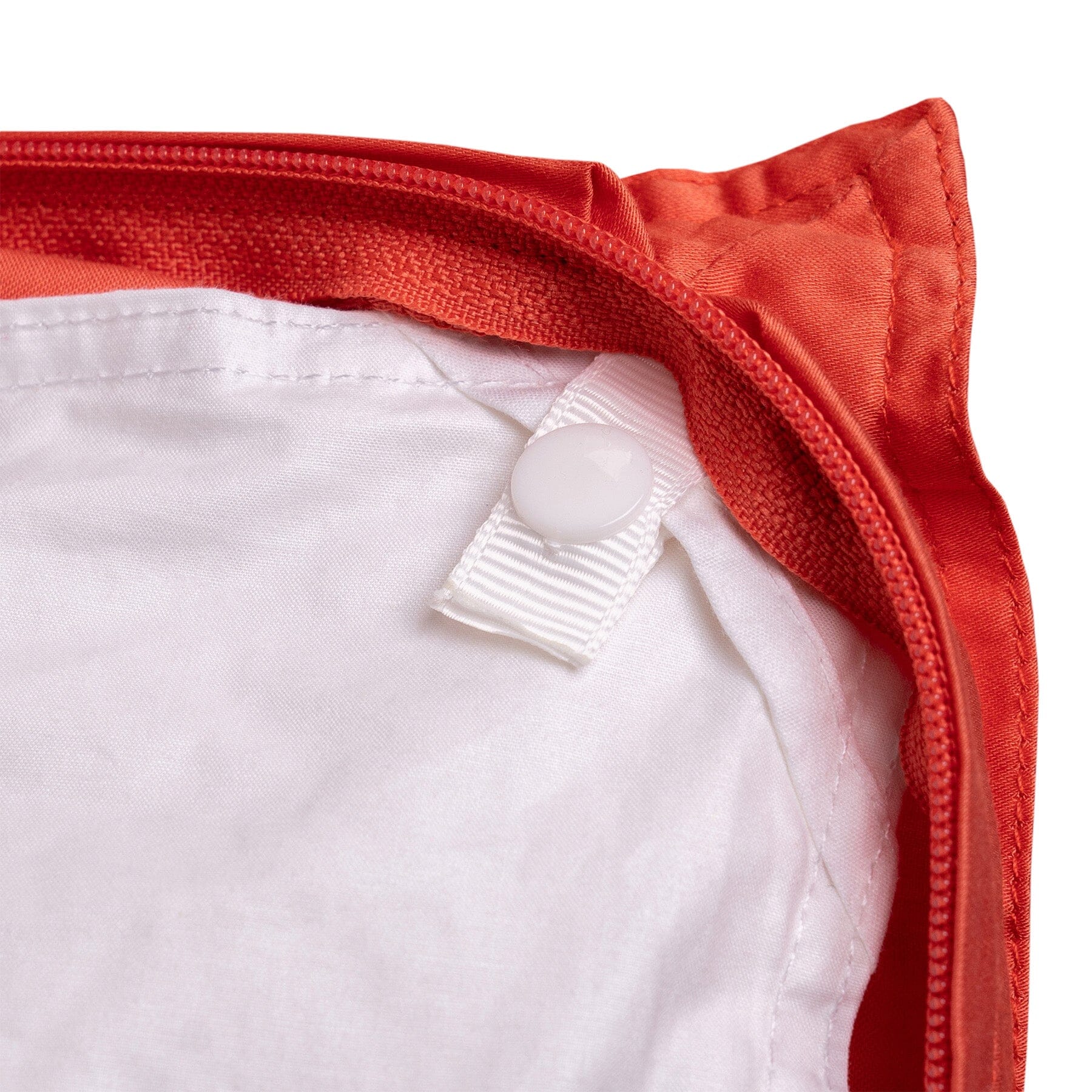 Persimmon Duvet Cover
SKU: 94162
About This Product:
Using a duvet cover helps keep your duvet clean and protect it from wear and tear. (It also eliminates the need for a top sheet!) This duvet cover has been thoughtfully designed to complement and allow for the maximum performance and longevity of Canadian Down & Feather Company duvets.
The dimensions of the cover match those of your CDFC duvet for a precise fit. The cotton fabric is 300 thread count, single-ply, percale weave, which makes for a light, breathable material that can stand up to many washes. The lightweight fabric and gusseted design allow a down or feather duvet to loft up properly without being weighed down. Proper lofting ensures that the fill performs to its full potential.
The convenient 3-sided zipper makes this product easy to use compared to a traditional duvet cover. The anchoring corner snaps couple perfectly with duvet corner loops to keep the duvet in place. Last, but not least, this product is packaged sustainably with recyclable, biodegradable, and water-soluble materials.
This vibrant red-orange can warms up any room and plays well with earth tones.
Features:
Box Edge Construction: 2" gusseted edge allows the duvet to loft to its full potential
300 Thread Count Percale: 300 thread count percale weave provides the optimal balance of light weight and durability
100% Cotton: Fine cotton allows the duvet to breathe
Corner Snap Ribbons: Snaps in all 4 corners to fasten and anchor the duvet in place
3-Sided Zipper Closure: Zipper on 3 sides for quick and simple duvet insertion
Easy Care: May machine wash and dry regularly
Guaranteed Quality: Guaranteed against manufacturing defects for 1 Year
OEKO-TEX Standard 100 Certified
Imported
Care
HOW TO USE
Reviews (2)
Choose options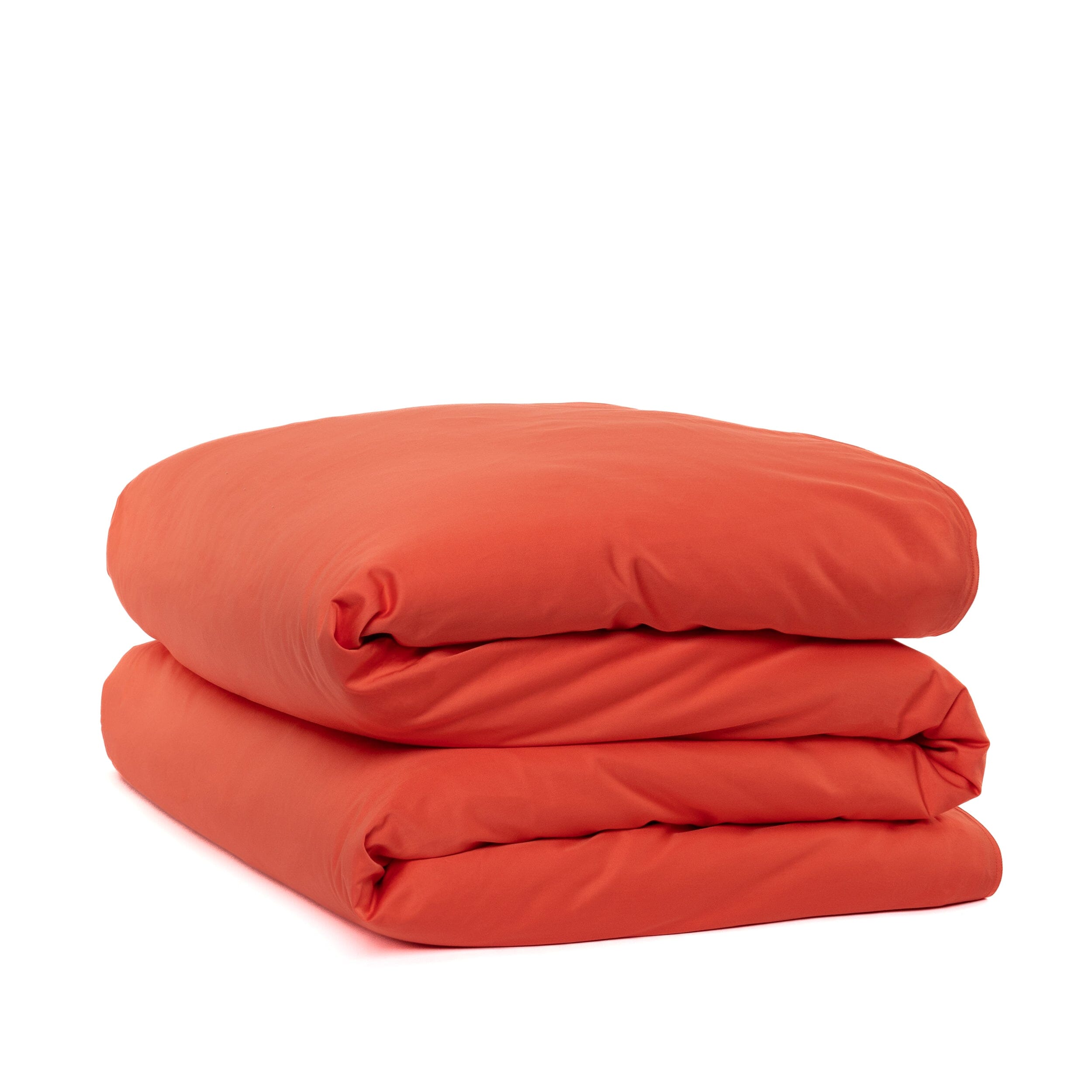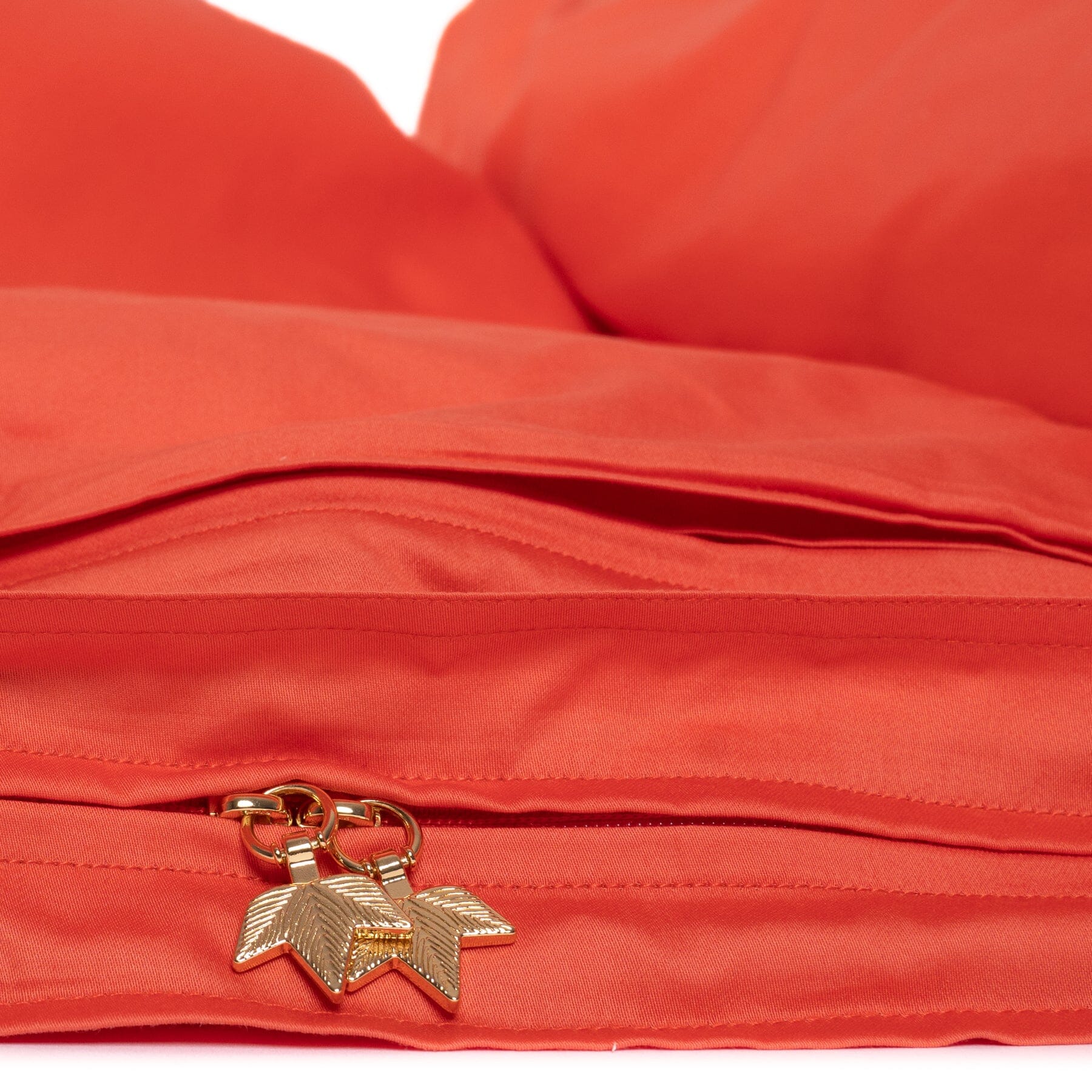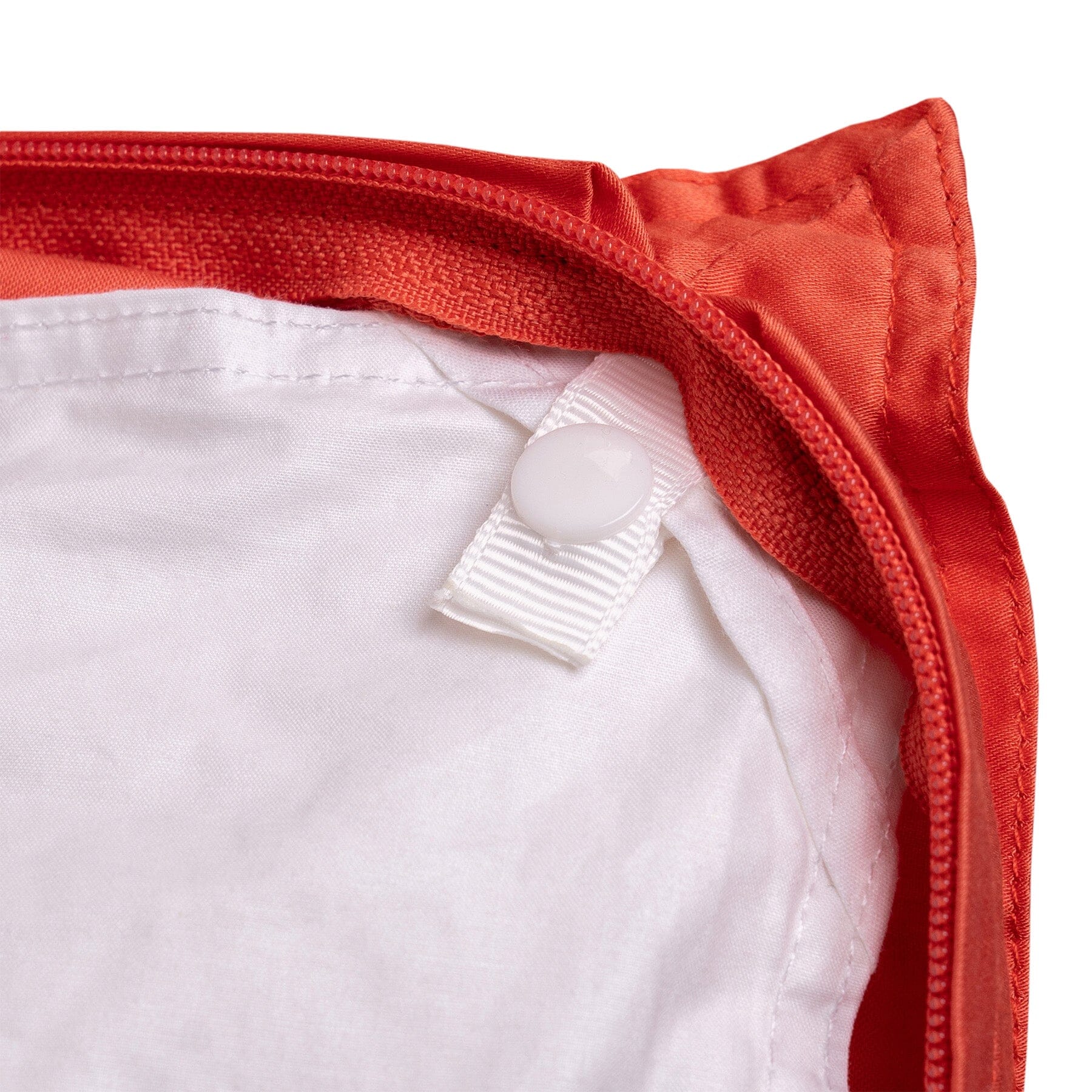 Sale price

$130.00 USD
Regular price

$163.00 USD
(/)
View details
Does it come in another color? Persimmon doesn't fit in my bedroom

We currently have 3 other colours to choose from! We are hoping to launch some new colours in the Spring so be on the lookout!

Please, clarify, whether this product consists of two items - a duvet and a cover for this duvet?

The Duvet Cover product consists of 1 duvet cover. Duvets are sold separately!

What does professional cleaning of a down duvet mean as in the process used, how often should it be cleaned this way, and how can you tell a good cleaning establishment vs a Cleaner that will result in damage or poor results? Is it difficult to find a Professional Cleaner for a down duvet?

Dry cleaning is recommended for down duvets. However, if your duvet becomes particularly soiled, it may require washing. For both dry cleaning and washing, it is recommended to bring to a commercial cleaner, as they should have large enough machines to accommodate your duvet without damaging it. Any professional cleaner should be able to handle it. Just ask if they have experience with down and feather products! If your duvet is used in a relatively clean environment, it should only require cleaning every 5-10 years, if at all.