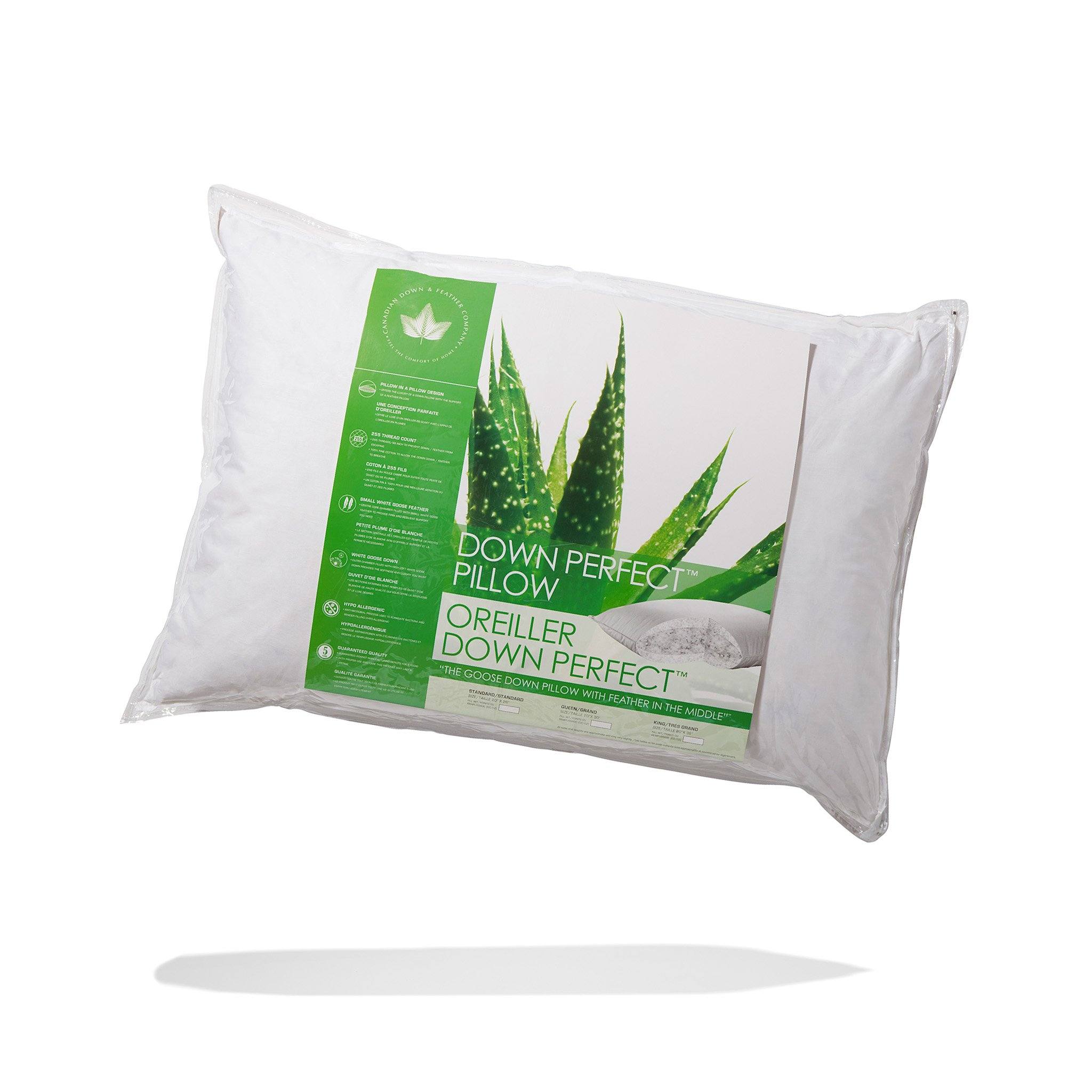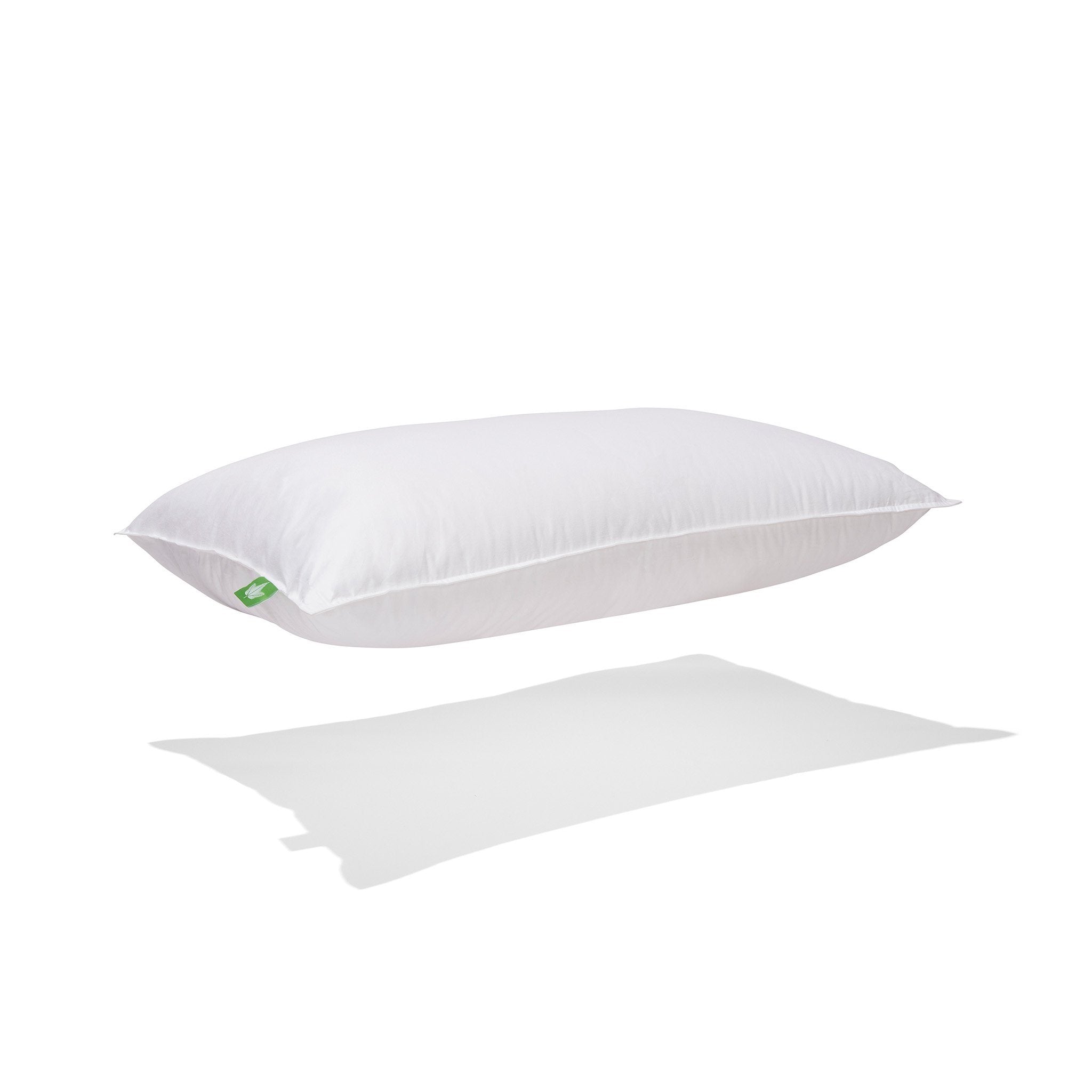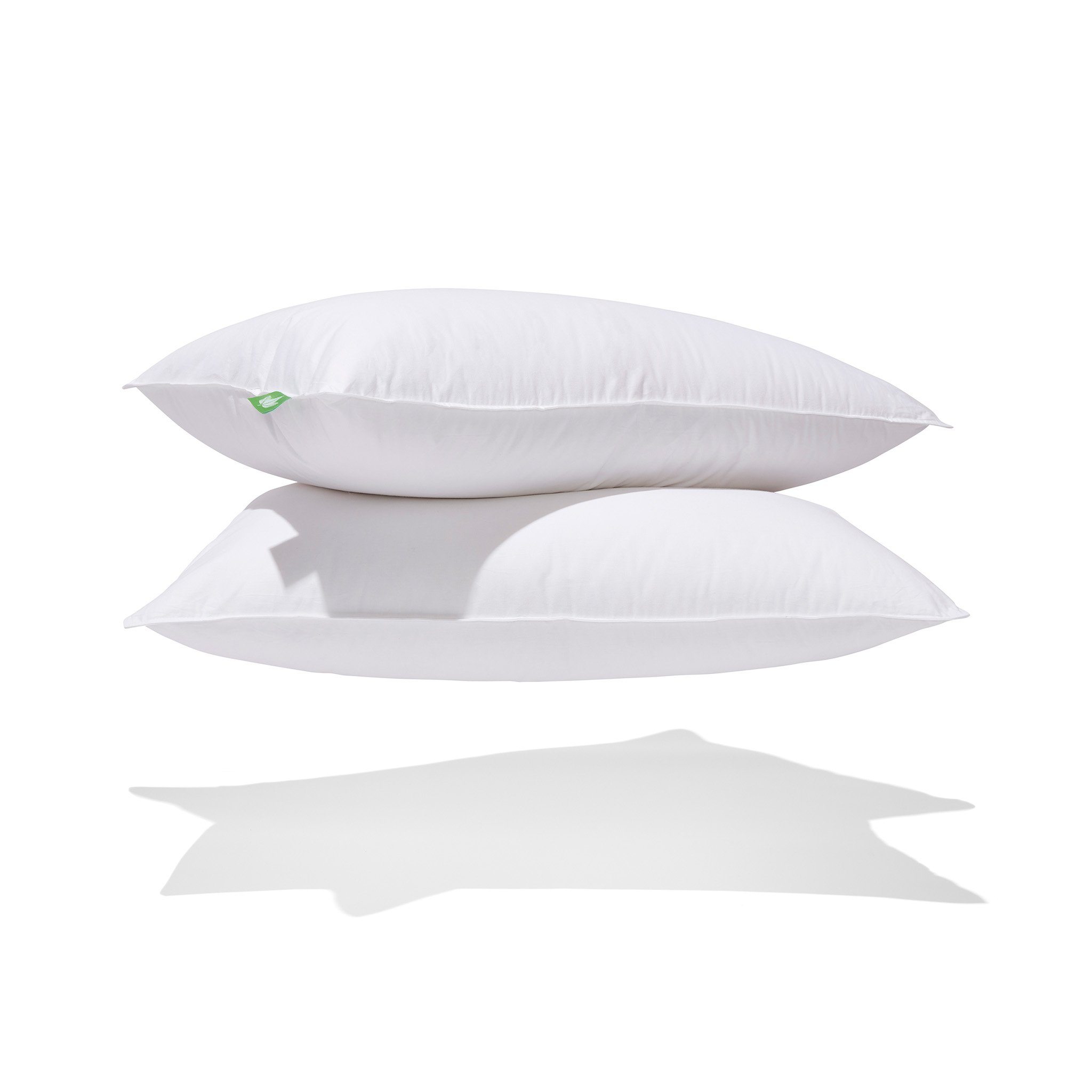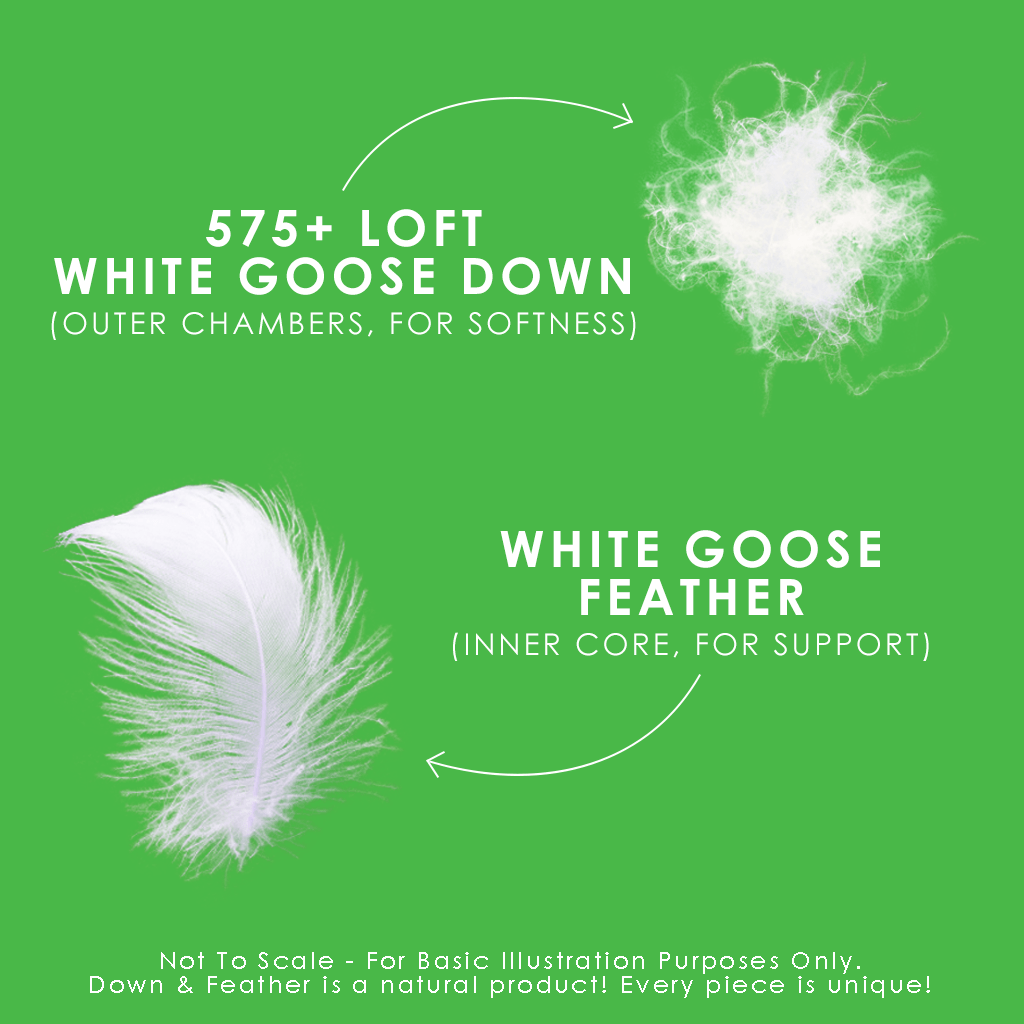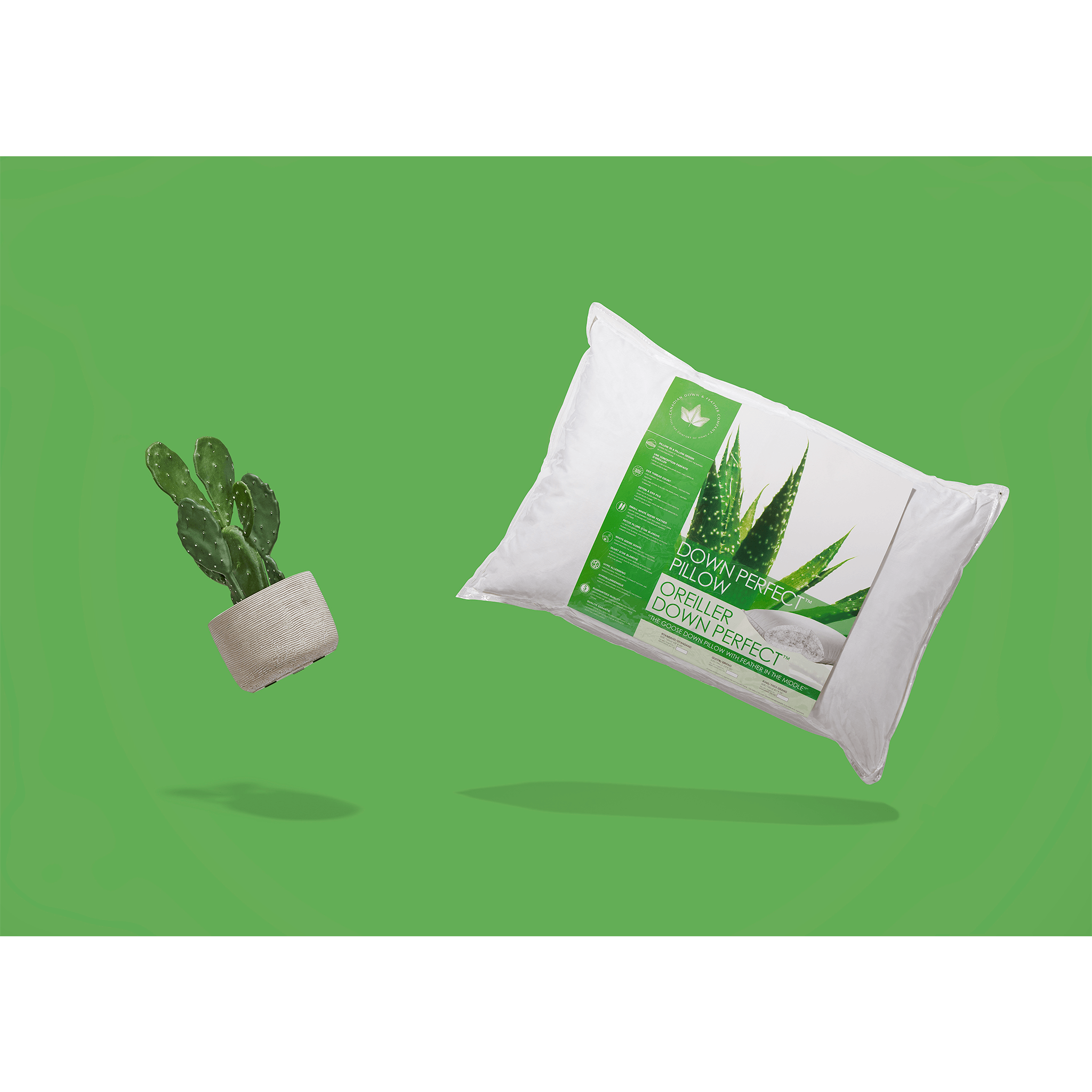 Down Perfect Pillow
Sale price

$41.00 USD
Regular price

$51.00 USD
(/)
SKU: 41240
About This Product:
This pillow is filled with care in Canada. This is a 3-Chamber pillow. The center chamber is filled with goose feather, which provides great, resilient support. The feather core makes up about 90% of the total fill weight. The outer chambers are filled with 575 loft goose down, which adds some softness and luxury to the pillow. Down Perfect pillows combine the firmness of feather with the softness of down for the best of both worlds! The outer shell of this pillow is crisp 255 thread count cotton.
The Medium weight is a real crowd-pleaser, and works for front, back and side sleepers. It is firm enough for side sleeping but not so hefty that it props the head up too much for front and back sleeping. If you sleep only/primarily on your side or like a really firm and substantive pillow, go with the Firm version!
Features:
3 Chamber Pillow in a Pillow Design: Offers the luxury of a down pillow with the support of a feather pillow
Outer Shell - 255 Thread Count: Prevents Down / Feather from escaping
Outer Shell - 100% Cotton: Fine cotton allows the down to breathe
Core Chamber - Nylon: Contains the feather component and prevents the down and feather from mixing. 
Small White Goose Feather: Centre Core Chamber filled with small White Goose Feather to provide the firm and resilient support you need (approx 90% of total weight)
White Goose Down: Outer Chambers filled with high loft White Goose Down provide the softness and luxury you want (approx 10% of total weight)
575+ Fill Power Down: Insulates and lofts 575+ cubic inches per ounce of fill
Hypo Allergenic: Anti-Microbial process used to eliminate bacteria
Guaranteed Quality: Guaranteed against manufacturing defects for 5 Years
RDS Down:

 

Certified by IDFL 005891
Filled in Canada with domestic and/or imported materials
Helpful Links: 
Pillow Buying Guide
Difference Between Down & Feather
Compare All Pillows
Learning Center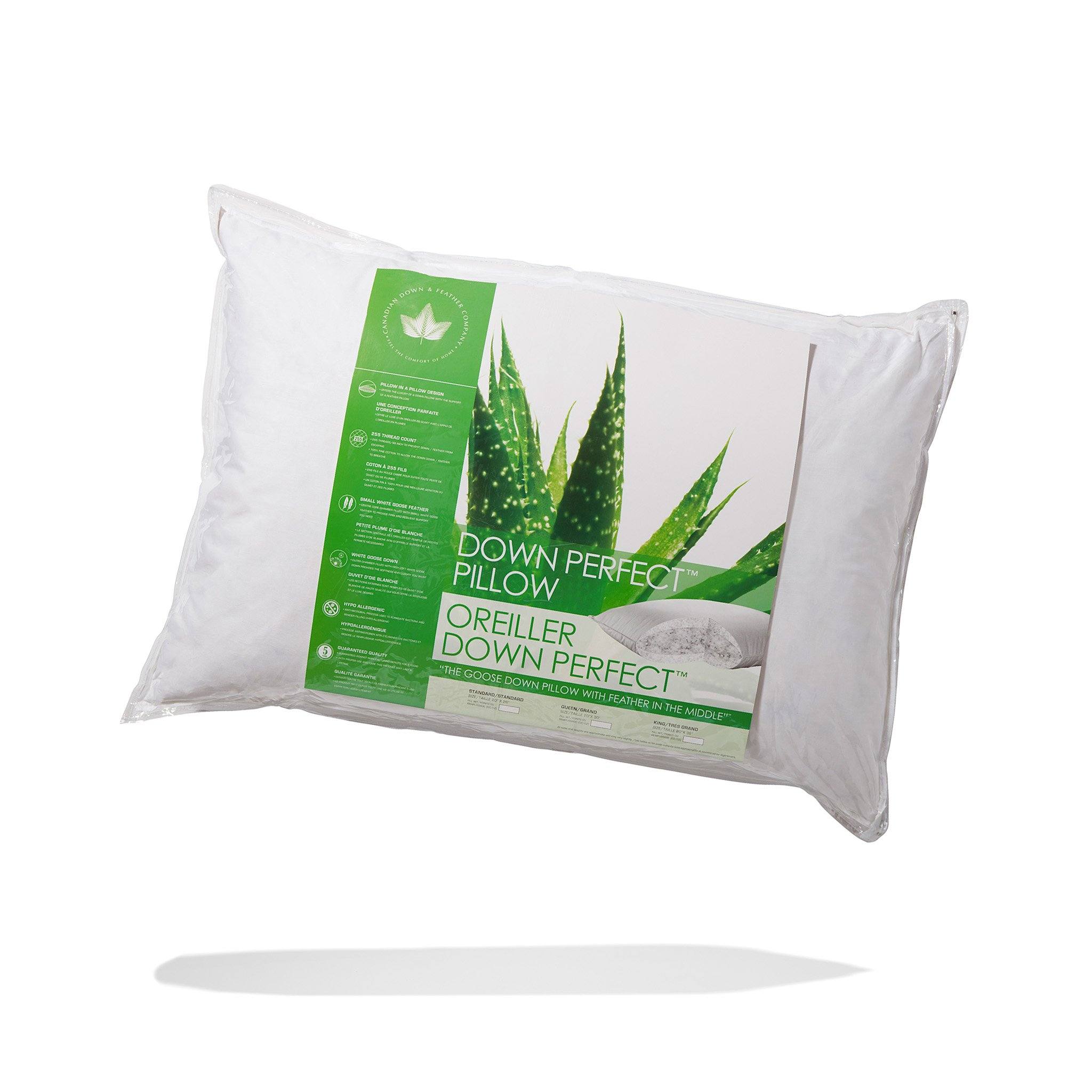 Down Perfect Pillow
Sale price

$41.00 USD
Regular price

$51.00 USD
Choose options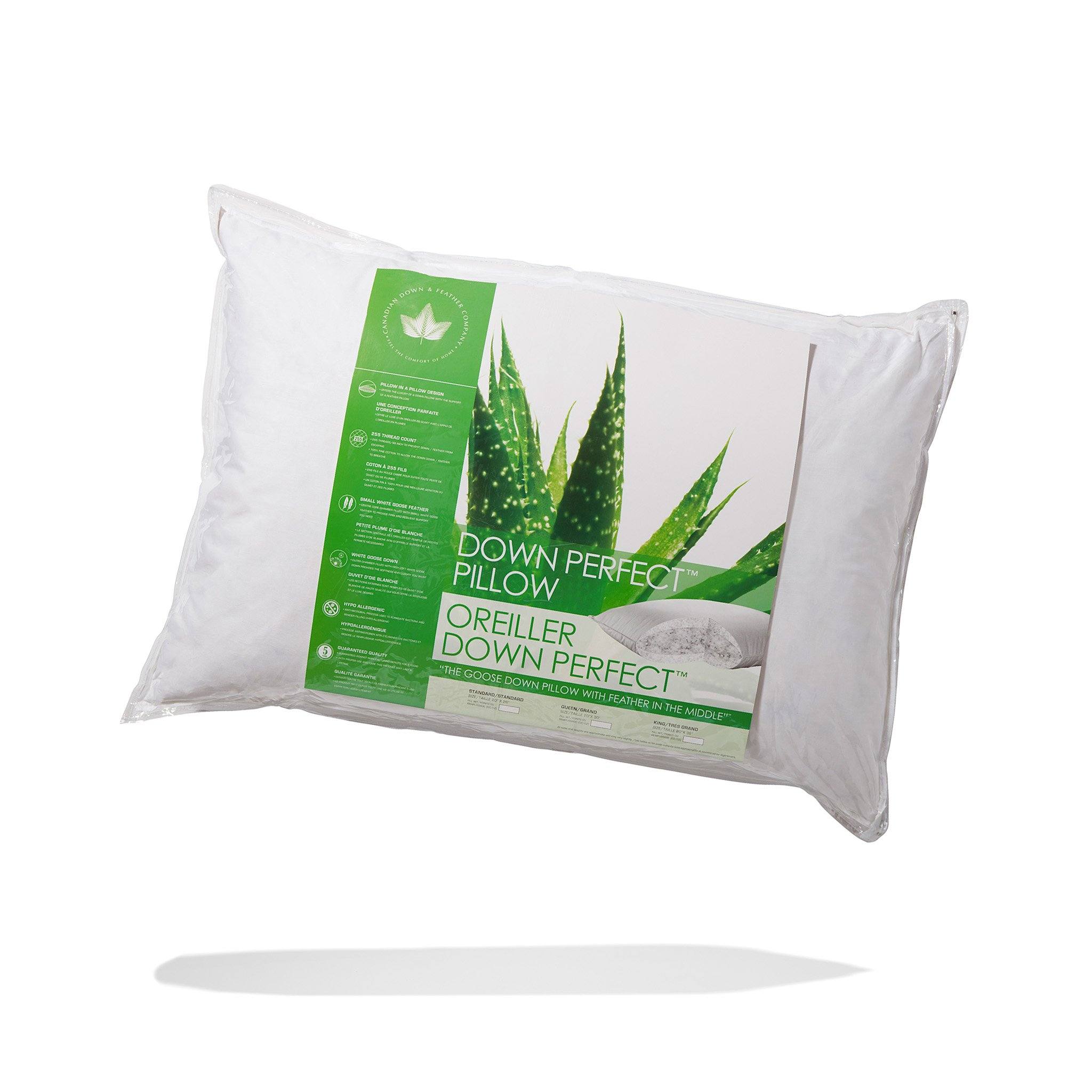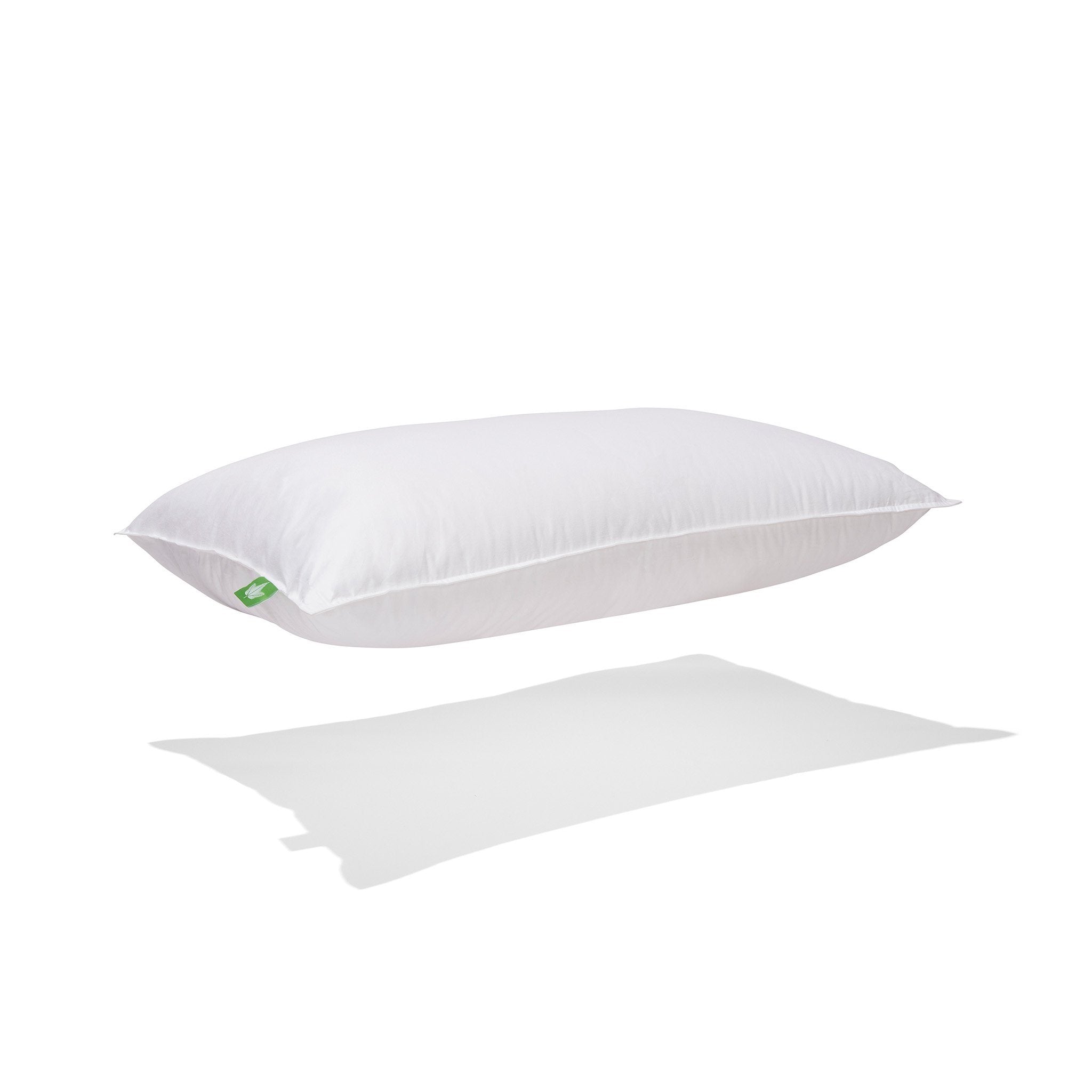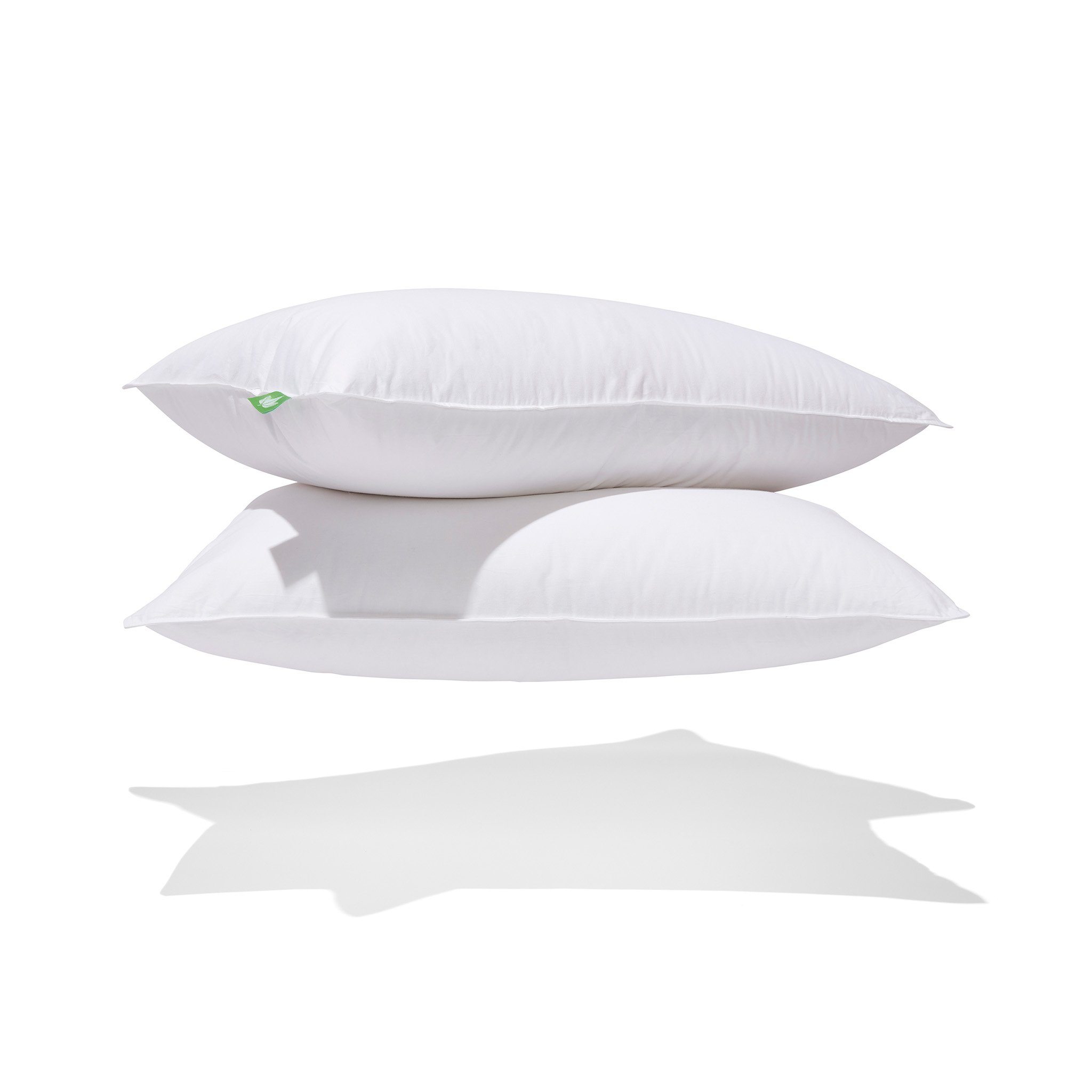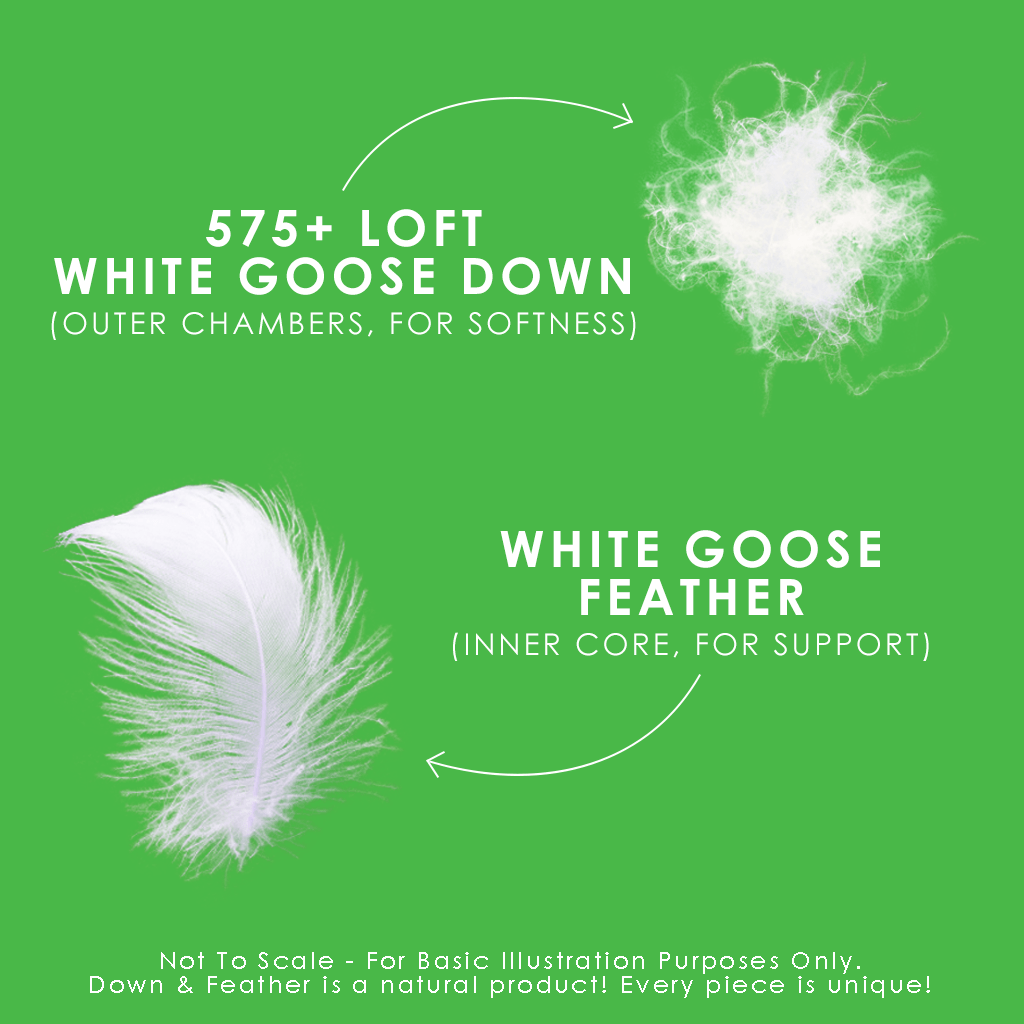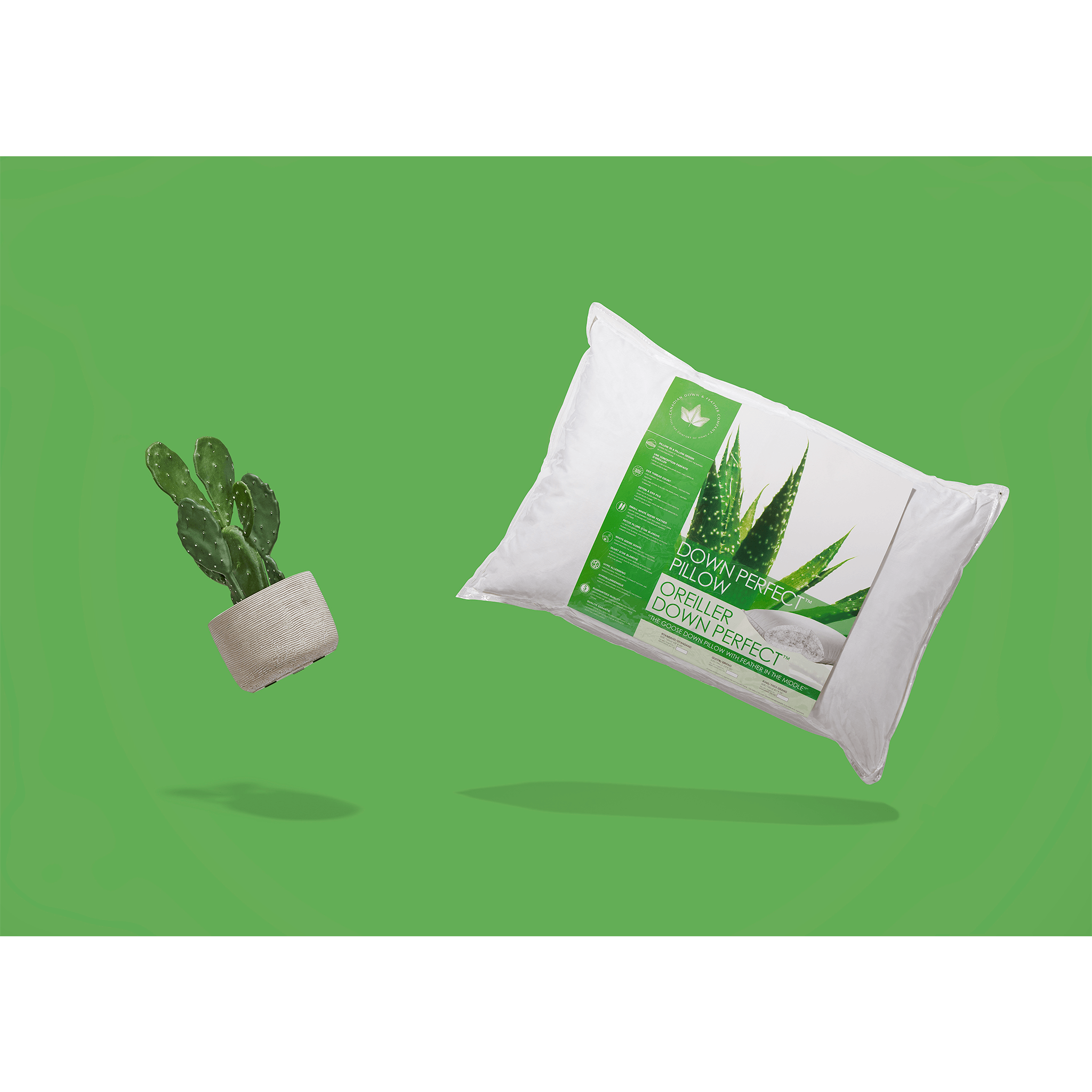 Sale price

$41.00 USD
Regular price

$51.00 USD
(/)
View details
I notice that Costco sells your Perfect Down pillow. My experience has been that sometimes the item sold by Costco is not exactly the same as the one sold from the manufacturer. Can you confirm that the Perfect Down pillow sold on your site is the same as the Perfect Down pillow sold on the Costco site?

Our products are sold at a wide variety of retailers. They are the exact same no matter where they're sold!

Hi, I am 6'-5'' and I want to change my pillow. I had 2 tempur for the last years, but I need more support when I am on the side (Because the distance between my neck and the end of my shoulder is considerable). Do you have any advice?

The firmest pillow we carry is the Down Perfect Pillow in Firm. If you opt for a feather pillow, this is the one I recommend. It's actually too firm for most people, but it's not the firmest pillow on the market. Feather products trap some air and therefore have some 'give' to them no matter what. It sounds like you may benefit from a different type of fill like latex or foam which will be more resilient.

What is the difference between a medium and a firm down pillow? I am a side and back sleeper.

Just to clarify, this is not a down pillow! This Down Perfect Pillow is mostly goose feather, housed in the core. The feather core is surrounded by a small layer of goose down! Medium is supportive, but not overly tall. It is usually best for combination sleepers because it provides enough support for side sleeping, but doesn't prop the head up too much for back sleeping. Firm is usually best for those who sleep only on their side or who prefer a very firm pillow. That being said, every sleeper is unique! This is just based on what we see most often.

If you're wondering about our down pillows (check our product comparison chart for all of the options), they are very soft and sinky! Firm down pillows start out fairly puffy, but sink down a lot with the weight of the head, only providing some gentle support. Medium are even softer and flatter!

My last purchase was the perfect pillow. It's a terrific pillow however I need more support for my neck. Can you please recommend something with more support?

If you purchased the Down Perfect Pillow in Medium, you could try the Firm version, which is a little fuller. But the Firm Down Perfect Pillow is the most supportive pillow we offer. If you purchased the King size, you could try sizing down to Queen or Standard, which allow less spreading and sinking of the fill with the weight of the head.
Ultimately, all down and feather products have some 'give' to them. It's a loose fill that traps air. Some folks need more support than feather can provide and opt for more rigid materials like foam or latex.

I have spondylos and my neck hurts as I slept for a while on very soft mattress and very uncomfortable pillow. So, now mattress is fine, I just need a good pillow for my neck, I sleep mostly on a side, sometimes on my back. What would you suggest? I want it to be with down, maybe combination with feather.

Typically side and back sleepers would benefit from a pillow like this Down Perfect Pillow. It's all about even neck alignment. Side sleepers need a fair bit of support to keep the head, neck and spine evenly aligned. Back sleepers need some support, but the head shouldn't be propped up too much. This pillow is filled mostly with feather, which provides excellent support. The feather is surrounded by a small buffer of down. I recommend Medium support to provide enough support for side sleeping, but not too much for back sleeping. That being said, for any medical conditions, we are not the best folks to consult, and you may want to get some advice from your doctor!