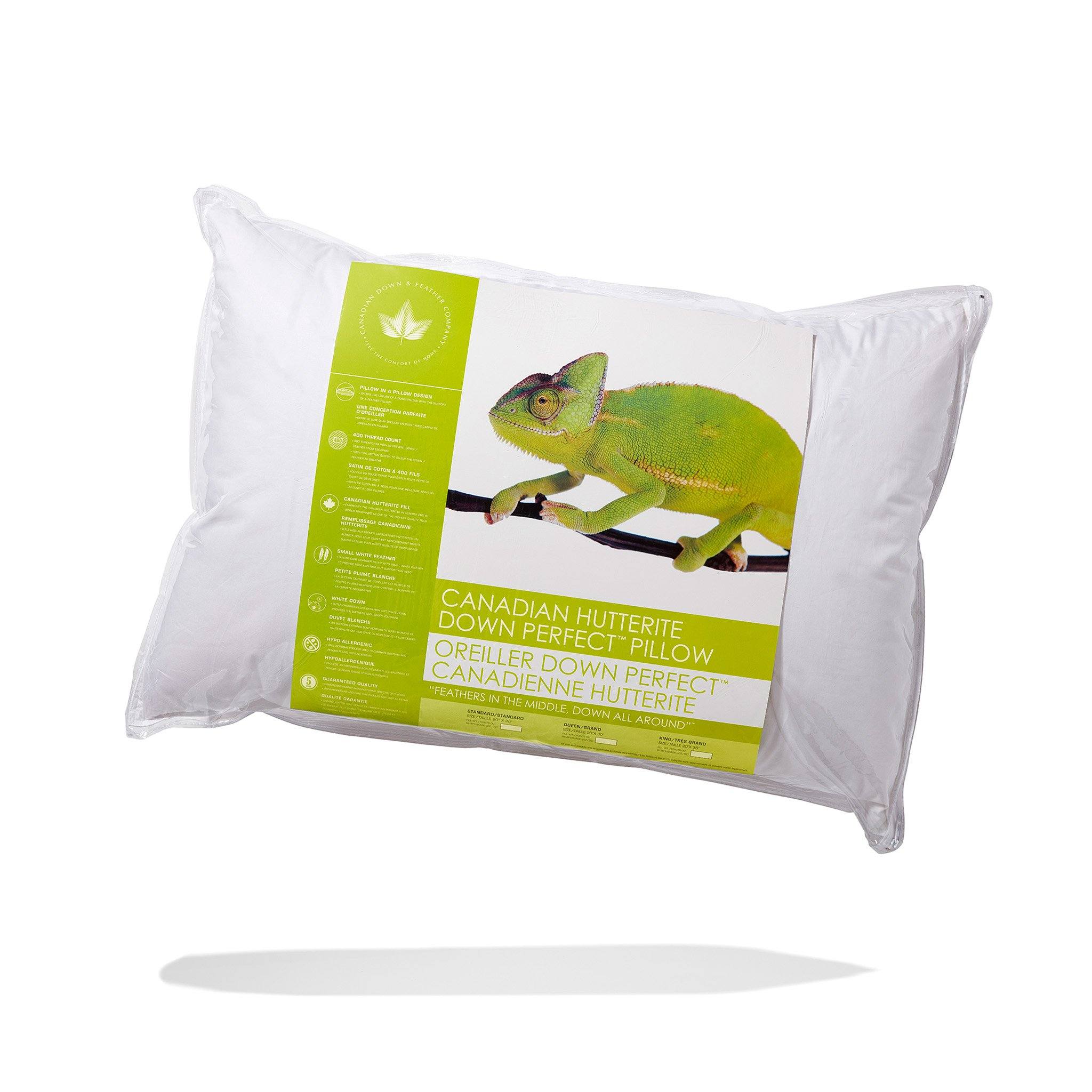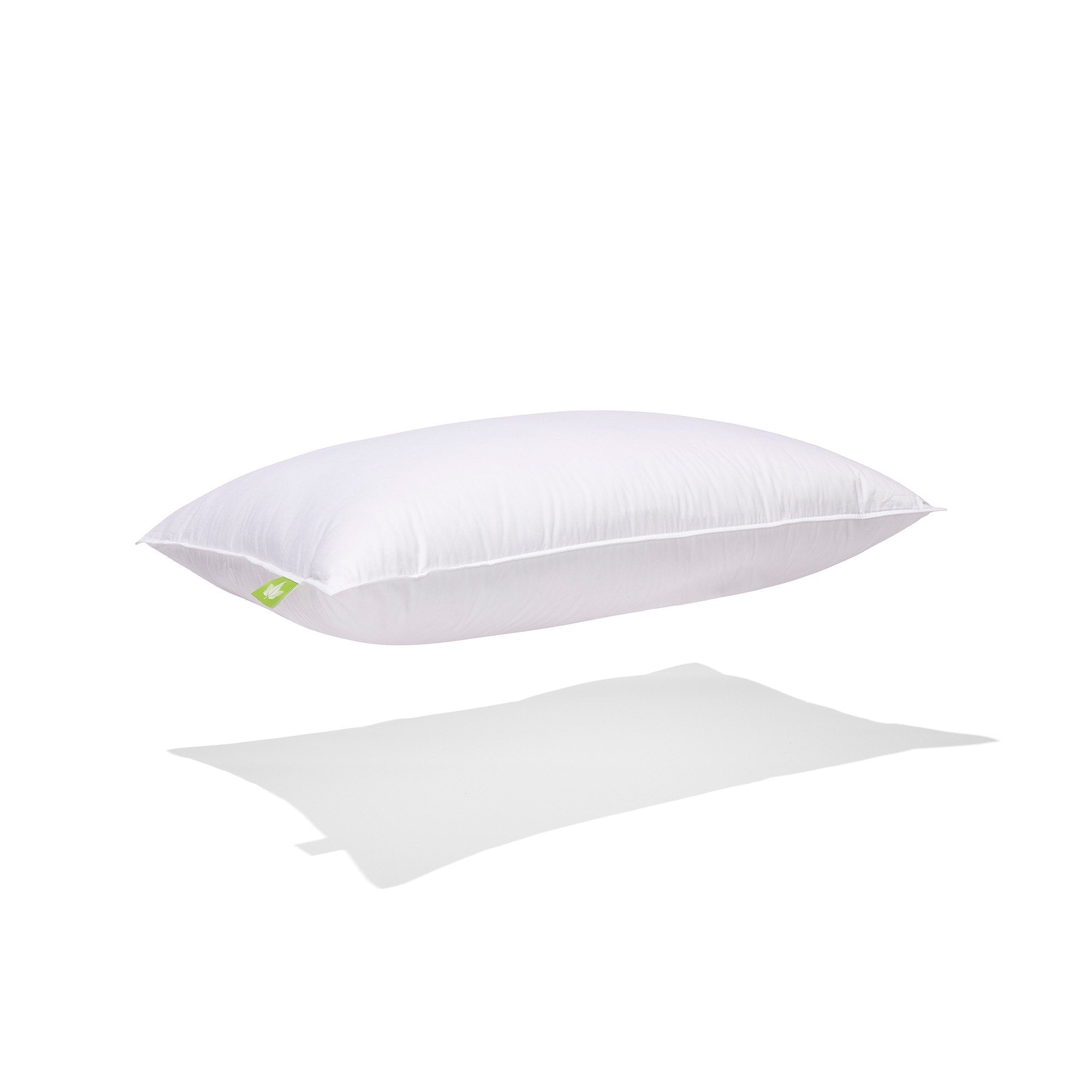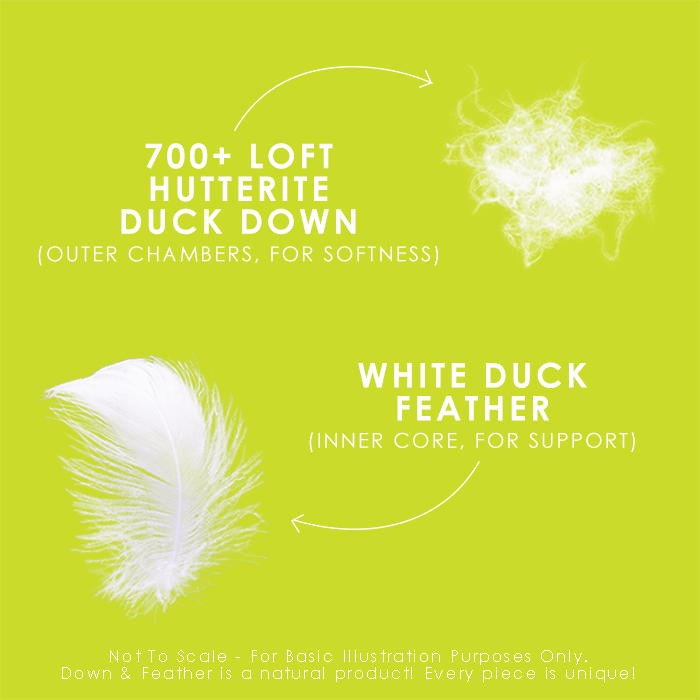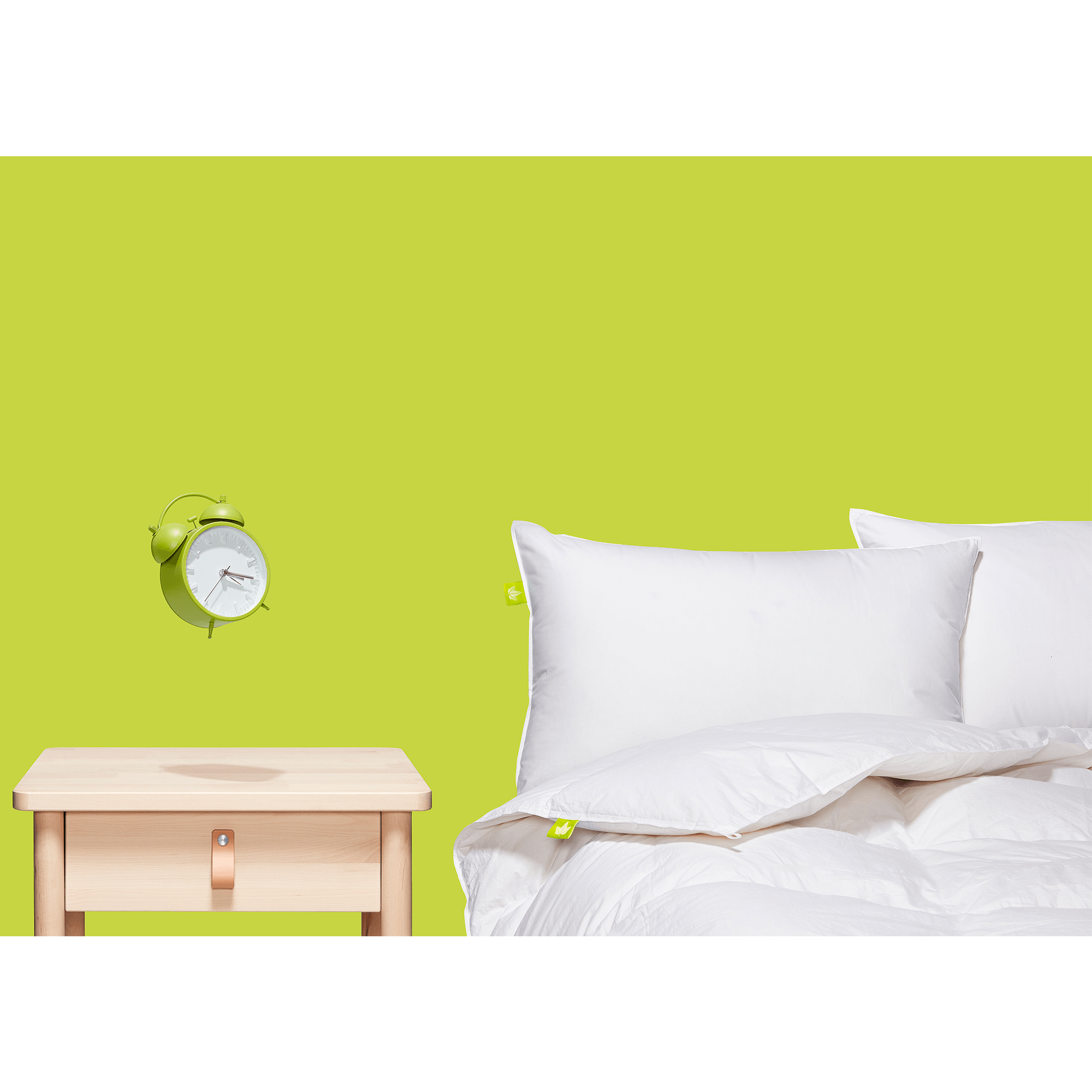 Hutterite Down Perfect Pillow
SKU: 70240
About This Product:
This pillow is made with care in Canada with Canadian fill. This is a 3-Chamber pillow, containing down and feather farmed by the Hutterites in the Canadian Prairies. The majority of the fill (about 90% of the total fill weight) is duck feather, which is in the center chamber. The feather core provides great, resilient support due to the feather quills. The outer chambers are filled with 700 loft duck down, which creates a soft buffer against the feather. Down Perfect pillows combine the support of feather with the softness of down for the best of both worlds! The outer shell of this pillow is soft 400 thread count cotton. 
The Medium weight is a real crowd-pleaser, and works for front, back and side sleepers. It is firm enough for side sleeping but not so hefty that it props the head up too much for front and back sleeping. If you sleep only/primarily on your side or like a really firm and substantive pillow, go with the Firm version!
Features:
3 Chamber Pillow in a Pillow Design: Offers the luxury of a down pillow with the support of a feather pillow
Outer Shell - 400 Thread Count: Prevents Down from escaping
Outer Shell - 100% Cotton: Fine cotton allows the down to breathe


Core Chamber - Nylon:

Holds the feather at the center of the pillow
Canadian Hutterite Fill: Farmed by the Canadian Hutterites in Alberta and is world renowned as one of the highest quality fills
Small White Feather: Centre Core Chamber filled with small White Feather to provide the firm and resilient support you need
White Down: Outer Chambers filled with high loft White Down provide the softness and luxury you want
700+ Fill Power Down: Insulates and lofts 700+ cubic inches per ounce of fill
Hypo Allergenic: Anti-Microbial process used to eliminate bacteria
Guaranteed Quality: Guaranteed against manufacturing defects for 5 Years
RDS Down:

 

Certified by IDFL 005891
Made In Canada
Helpful Links:
Pillow Buying Guide
Difference Between Down & Feather
Read our Refund Policy
Shipping nformation
Compare All Pillows
Learning Center
Choose options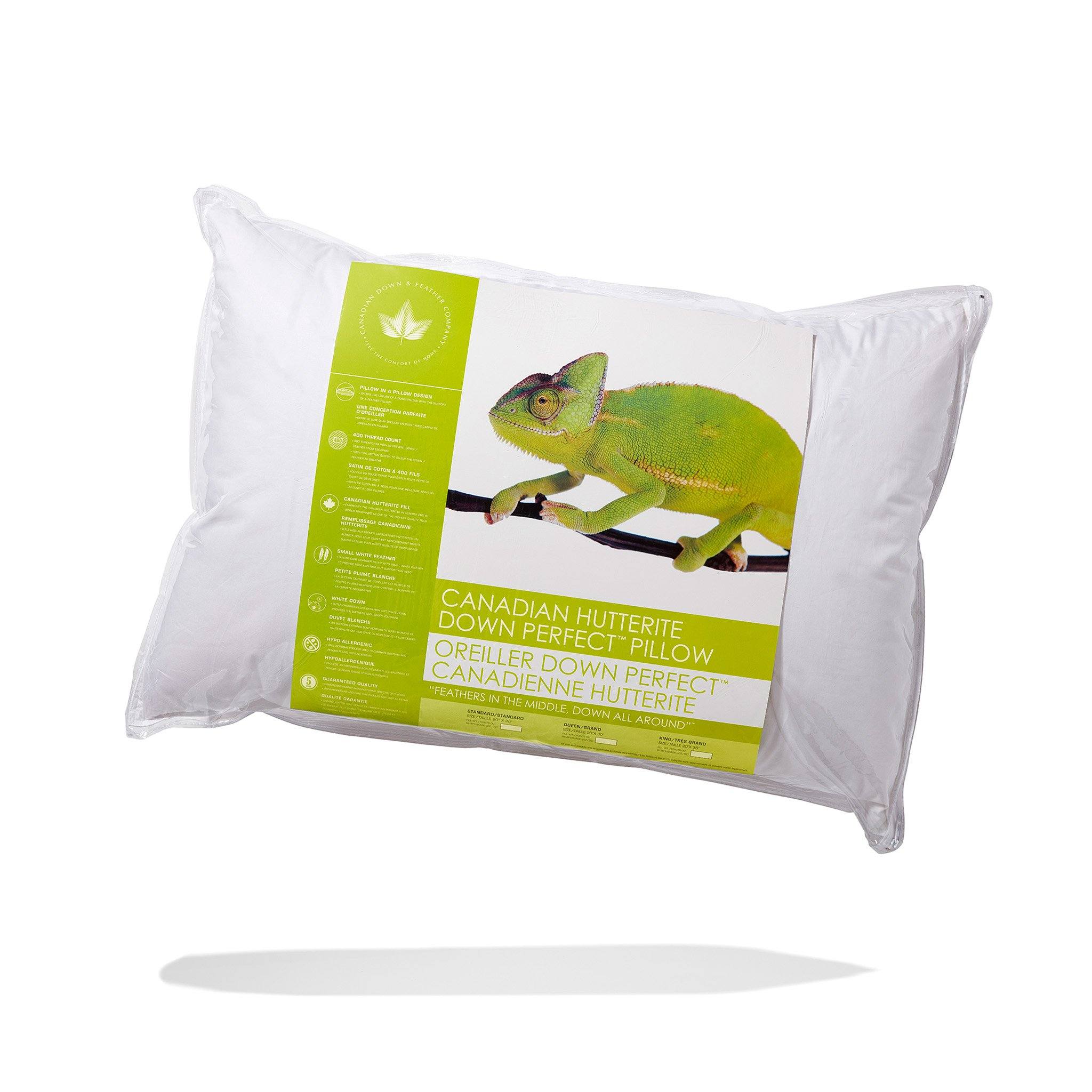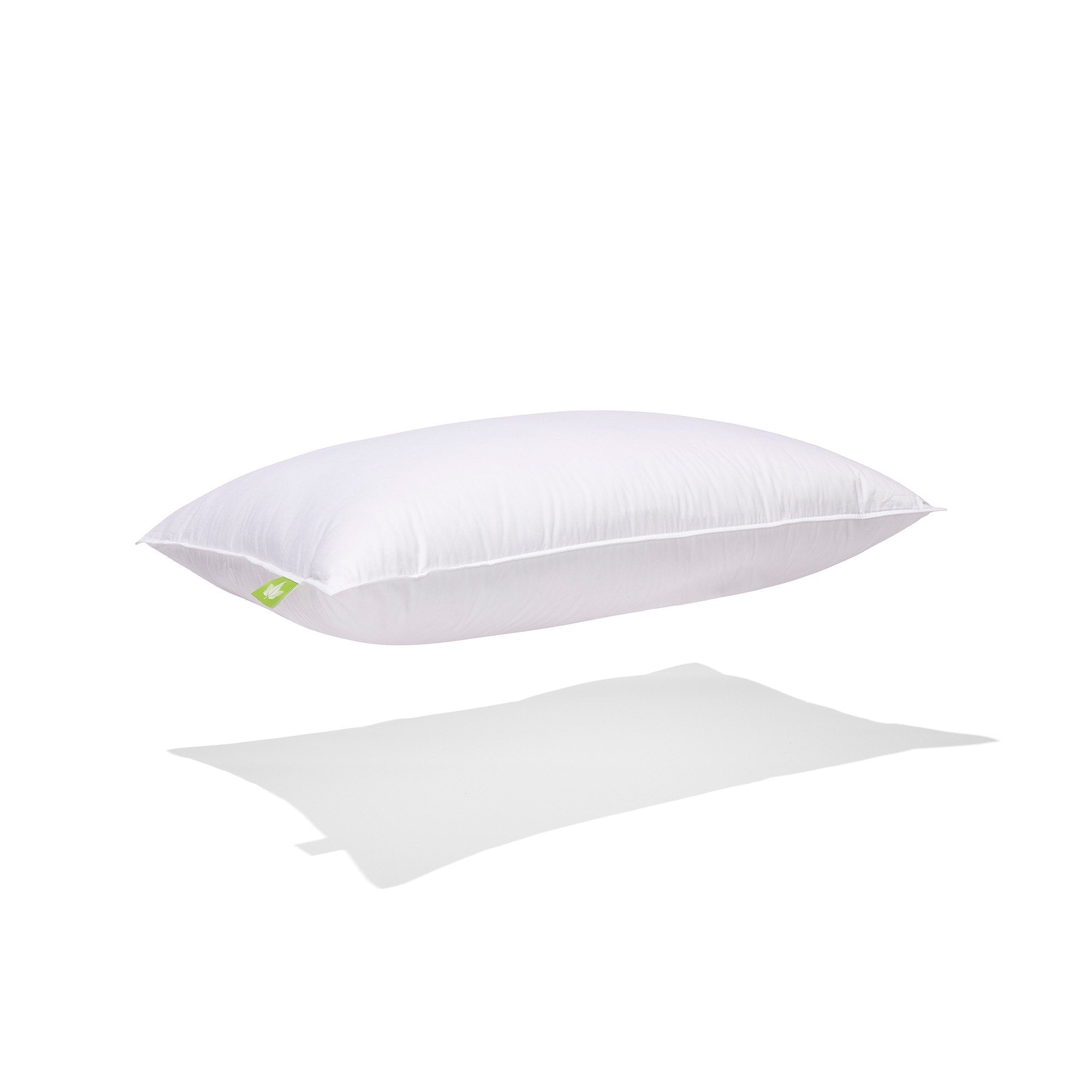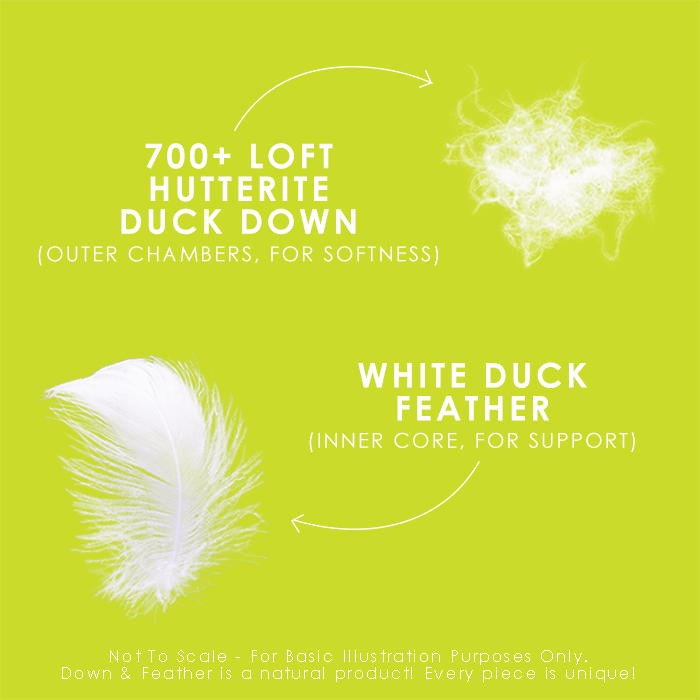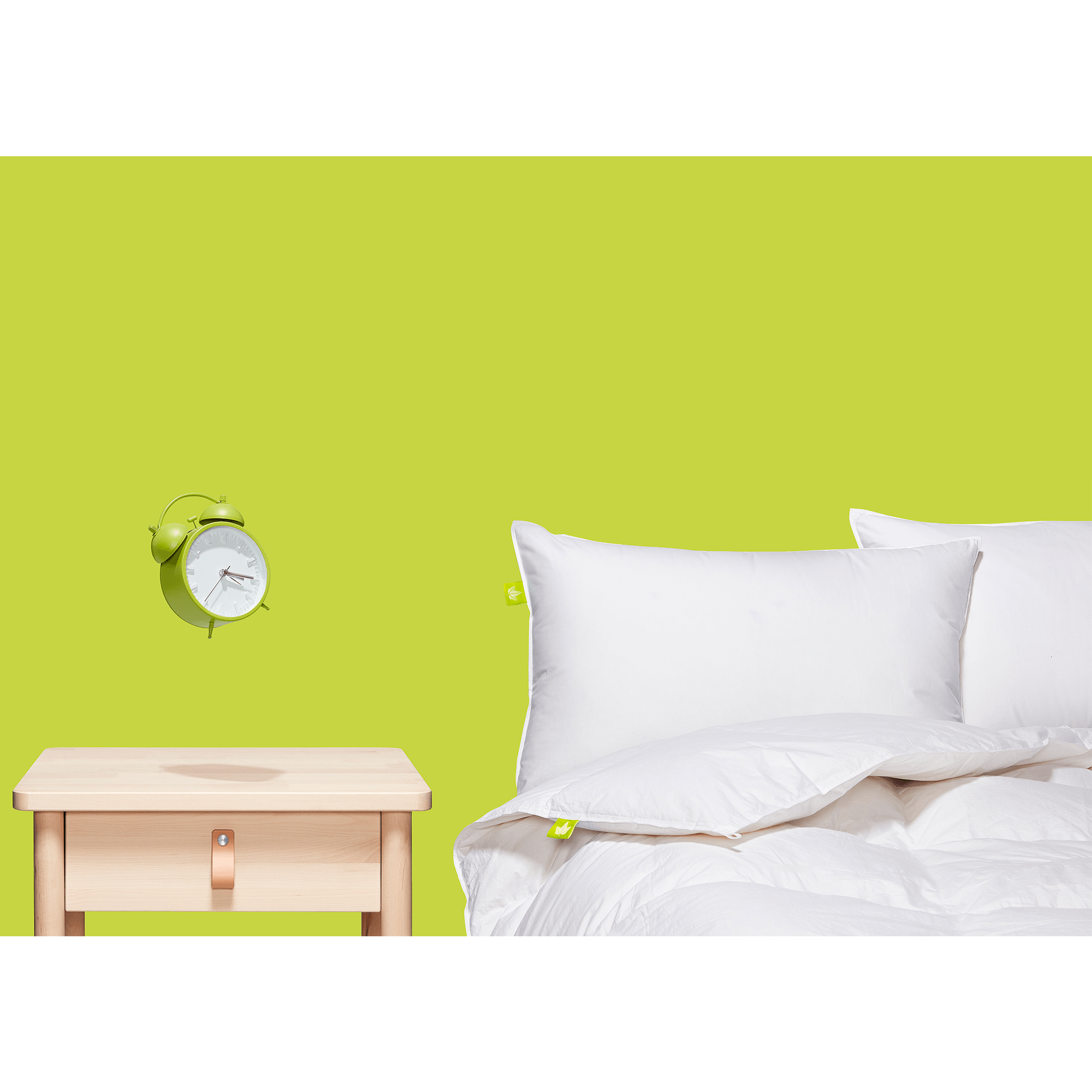 Sale price

$74.00 USD
Regular price

$93.00 USD
(/)
View details
Where can I read the reviews of the pillows?

Every product page has a Reviews section. Click on 'Reviews' under the product images and you'll see the list of reviews pop-out.

I am mostly a side sleeper but sometimes a back sleeper. I don't like firm pillows. I like the sound of the Gel Microfibre Down Alternative Pillow. It sounds like one I slept on a for a week when away and loved it. I liked the box construction and the "slipperiness" described in your write-up. In one part of your webpage it says this pillow gives medium support, and in another it says soft. Could you please explain? Also looking at write-ups for 3 similar pillows: Down Perfect, Hutterite Down Perfect, and Down Perfect White Feather and Down Pillow. They seem good for side sleepers, but I would not know how to choose between them. Could you please explain differences? Pillow shows stars before you click on a pillow, but clicking on the reviews does nothing. Once I pull up a specific pillow, there are no reviews shown. Could you please tell me how to get to reviews?

While side sleepers typically need a fair bit of support to keep the head, neck and spine evenly aligned, everyone is different! If firm pillows are not for you, I would not consider this Hutterite Down Perfect Pillow, or any of our Down Perfect Pillows for that matter! They're filled mostly with feather, which provides resilient support. They only have a small bit of down, which acts as a buffer against the feather. The differences between the 3 Down Perfect Pillows is most clearly illustrated in our pillow comparison chart. You'll find that the main differences are species and thread count. But the fill weight and support level is the exact same for each, so they perform very similarly.
If you don't like firm pillows, I would imagine the Gel Microfiber should work. It does provide some support, but the fill feels more soft and plush than feather does. The Gel Microfiber is considered a medium support. We do have another Microfiber pillow which is very similar, but it contains less fill, and therefore is considered Soft support.
I would not recommend down pillows, as down is extremely soft and sinky and only provides minimal support. Most side sleepers need more support than down can provide.
As for reviews, when you're on the product page, you'll see a menu underneath the images. One of the menu items is called 'Reviews'. Click that, and it will expand to show you all of the reviews!