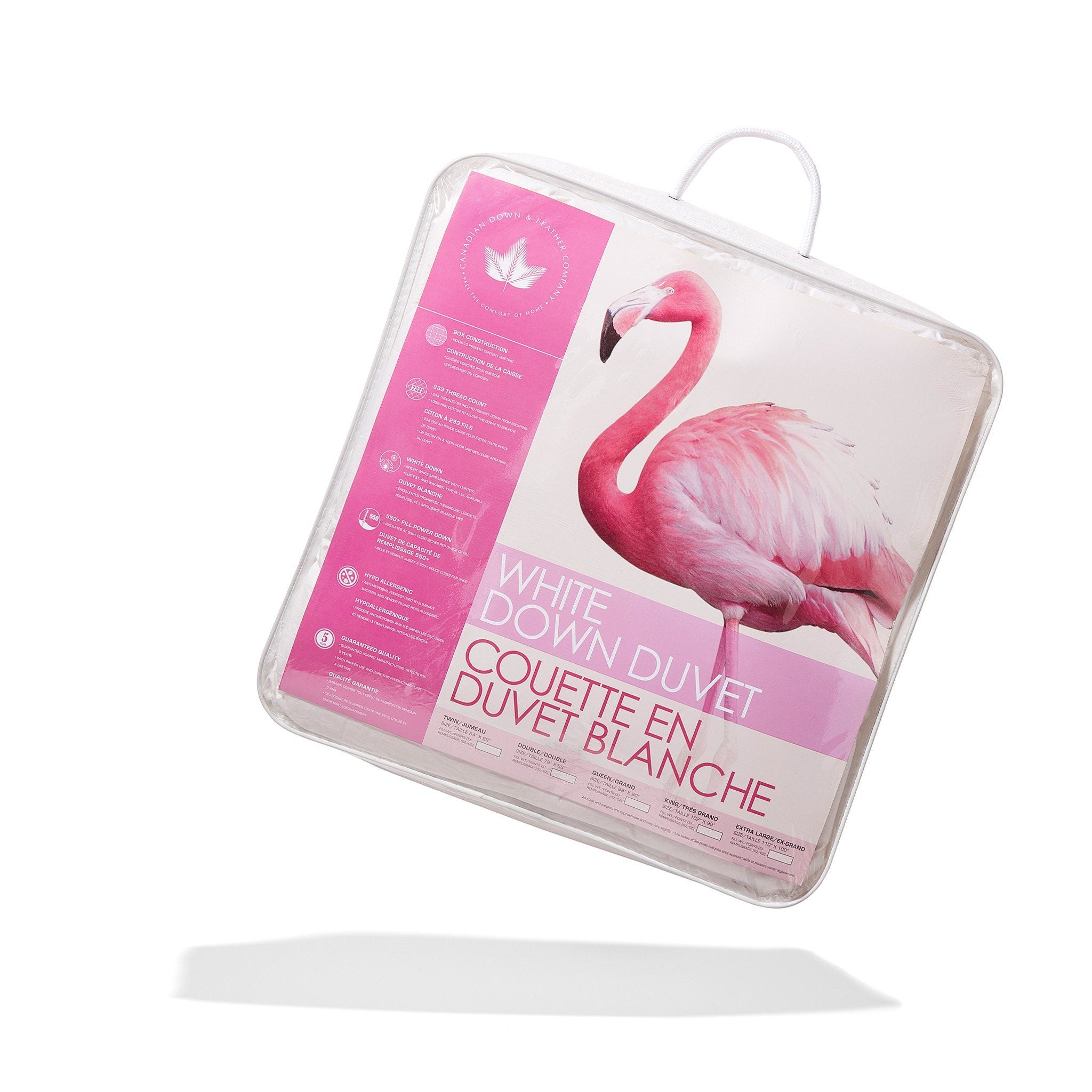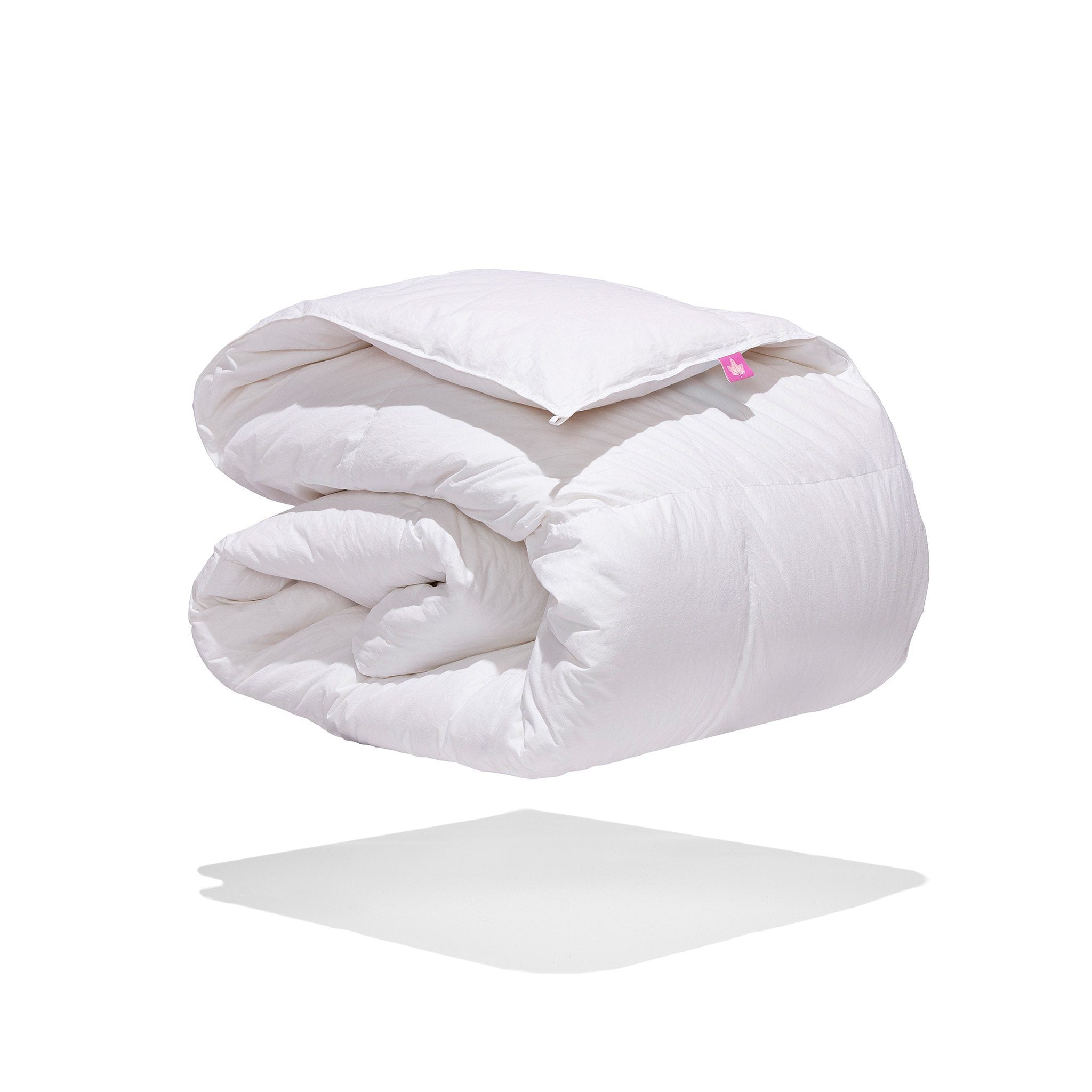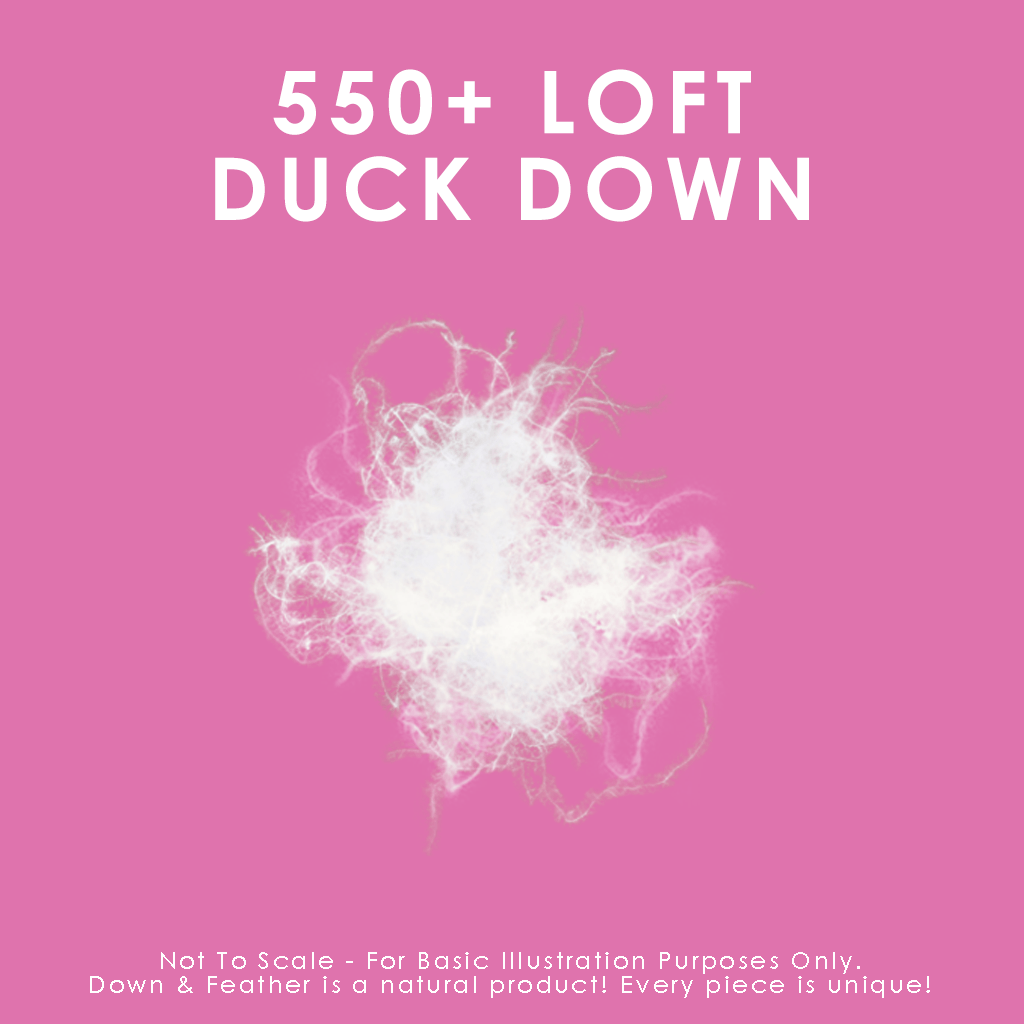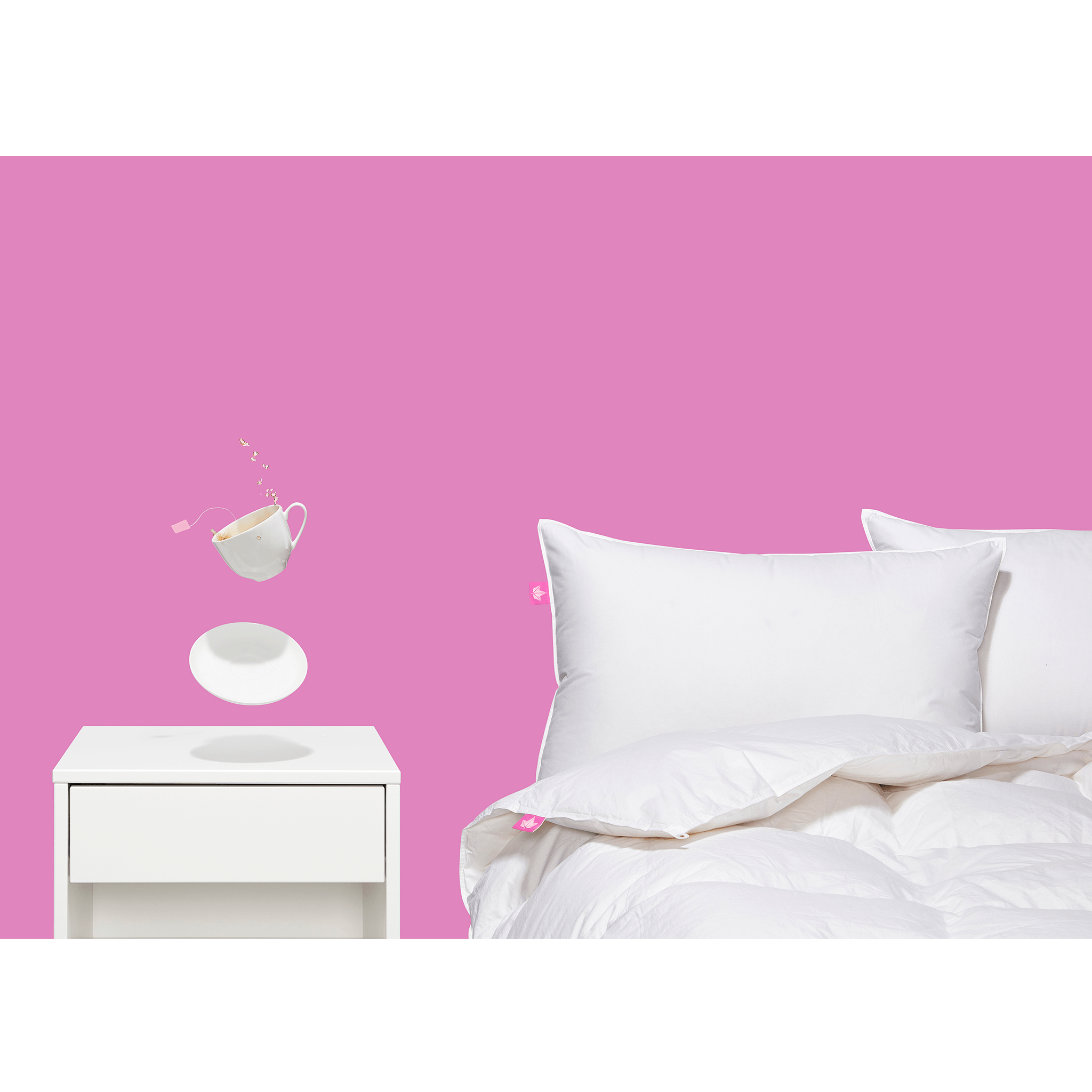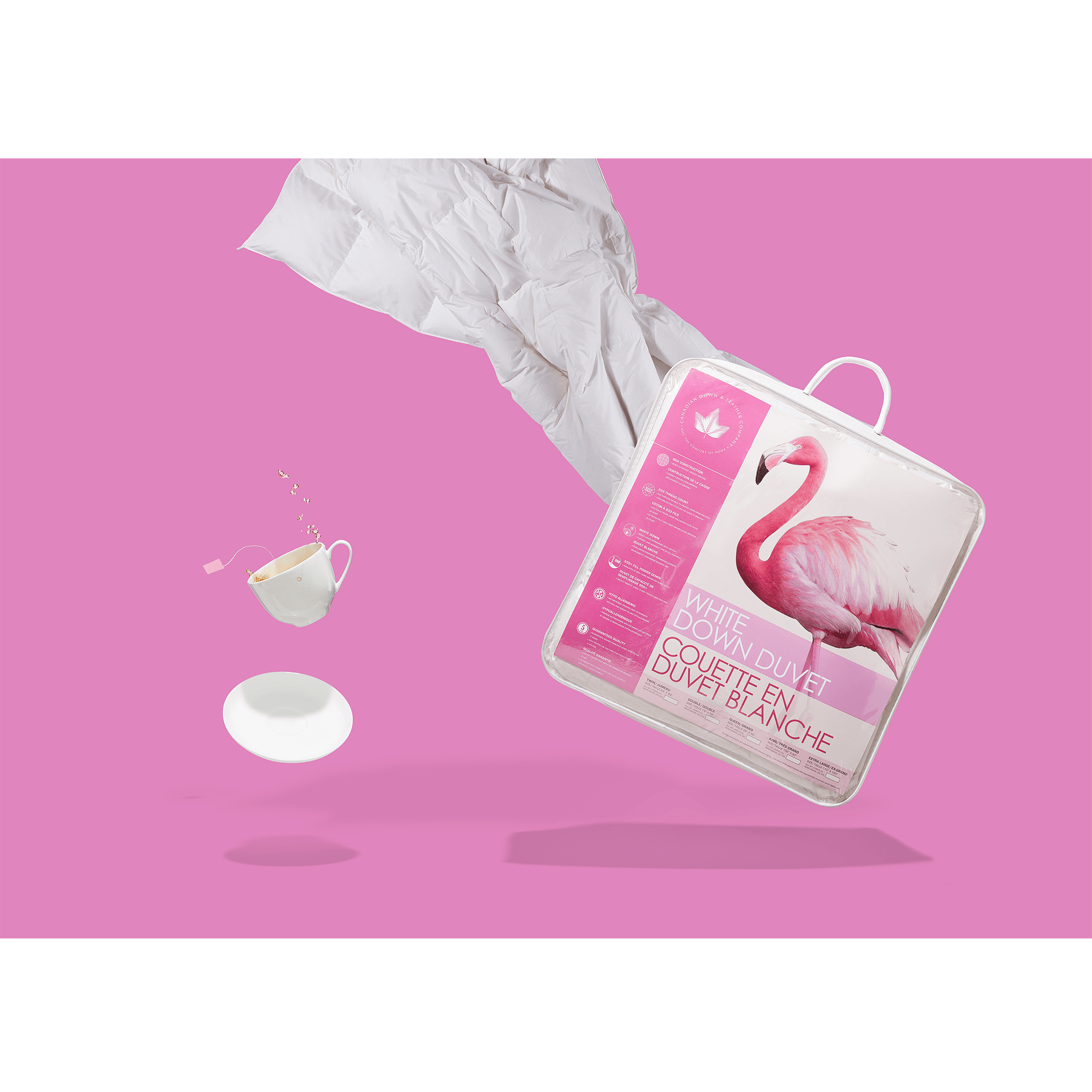 White Down Duvet
SKU: 50122
About This Product:
This duvet is filled with care in Canada. The cotton shell is 260 thread count, so it is crisp and durable. The duvet is filled with 550 loft duck down. Down fill is soft and luxurious, made up of tiny, fluffy clusters. This duvet is fairly lightweight, but you'll find this duvet contains more fill than a duvet with higher loft down. This is because the higher the loft of the down, the better the insulating properties, and the less of it we need to achieve the desired warmth level!
Summer Weight is great for hot sleepers or room temperatures of 22 degrees C or higher. Opt for Regular Weight if your room temperature is around 19 – 21 degrees C or if you're fairly warm when you sleep. All Season Weight is best if your room temperature is 16 – 18 degrees C or if you're a cooler sleeper. 
Features:
Baffle

 

Box Construction:

 

Baffle Walls for maximum loft / Boxes to prevent content from shifting
260 Thread Count: Prevents Down from escaping
100% Cotton: Fine cotton allows the down to breathe
Corner Loops:

 

Loops on all 4 corners to tie and anchor the duvet in place
White Down: Bright white appearance with lightest, fluffiest and warmest type of fill available
550+ Fill Power Down: Insulates and lofts 550+ cubic inches per ounce of fill
Hypo Allergenic: Anti-Microbial process used to eliminate bacteria
Guaranteed Quality: Guaranteed against manufacturing defects for 5 Years
RDS Down:

 

Certified by IDFL 005891
Filled in Canada with domestic and/or imported materials
Helpful Links:
Guide to Duvet Warmth & Weight
Duvet Buying Guide
Difference Between Down & Feather
Compare All Duvets
Learning Center

Choose options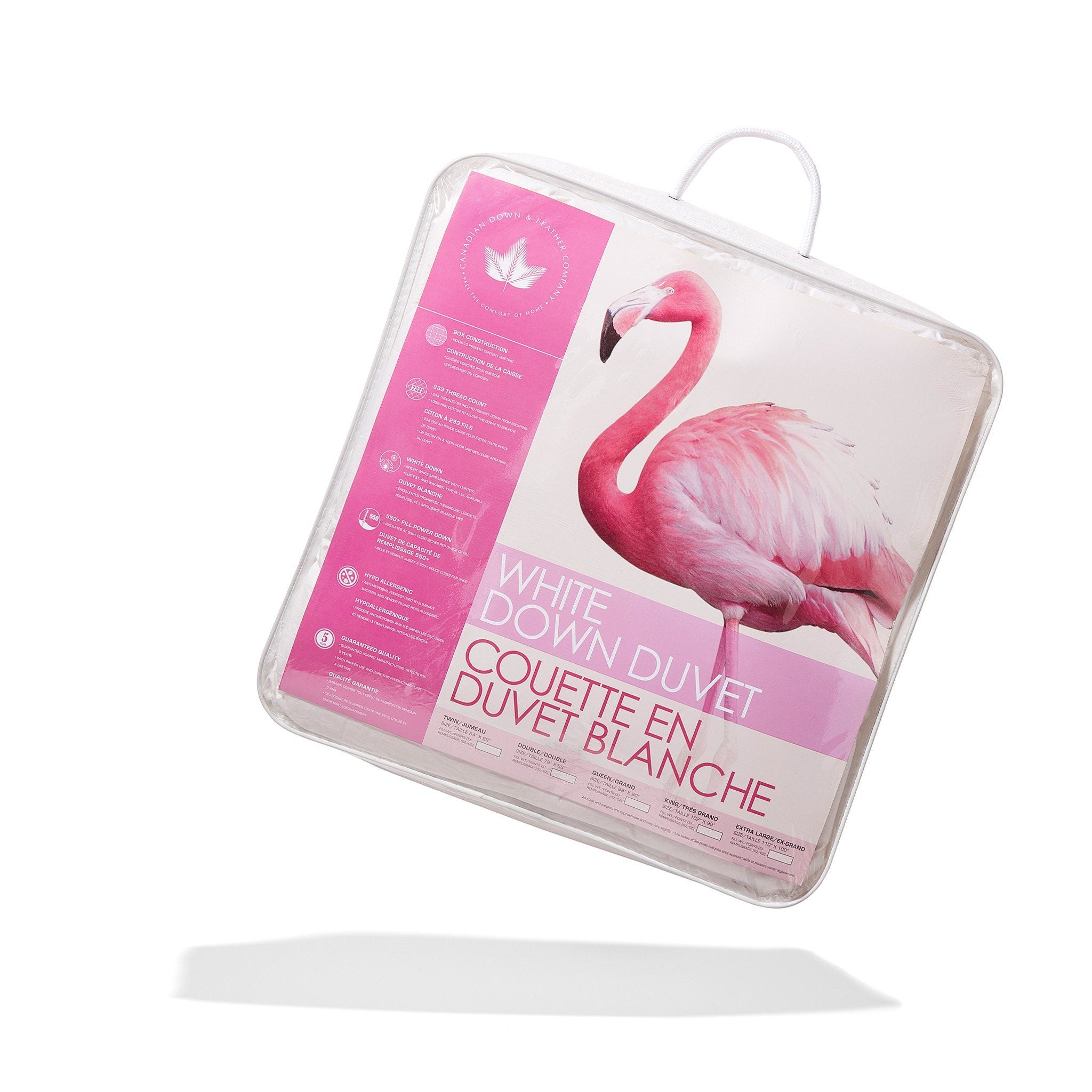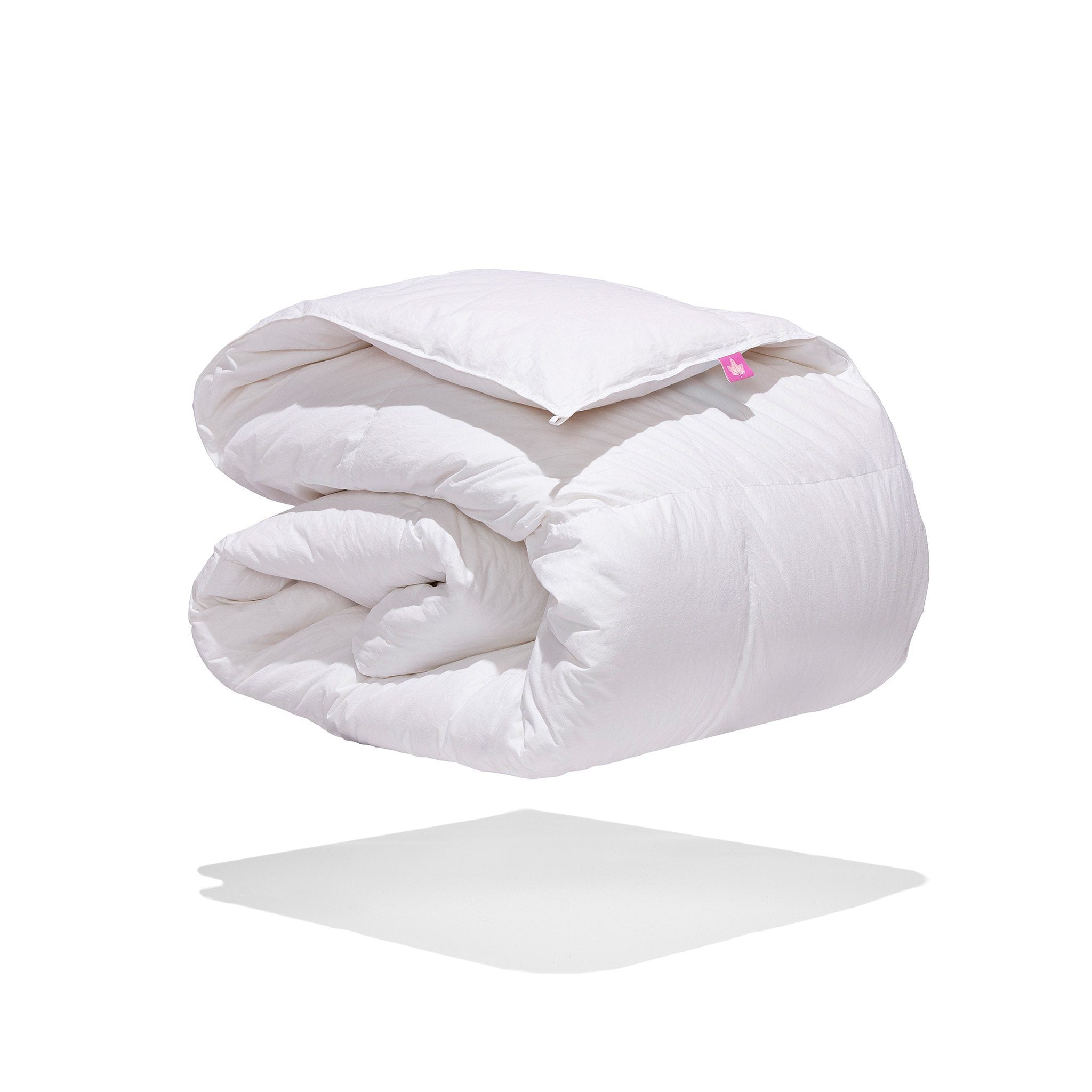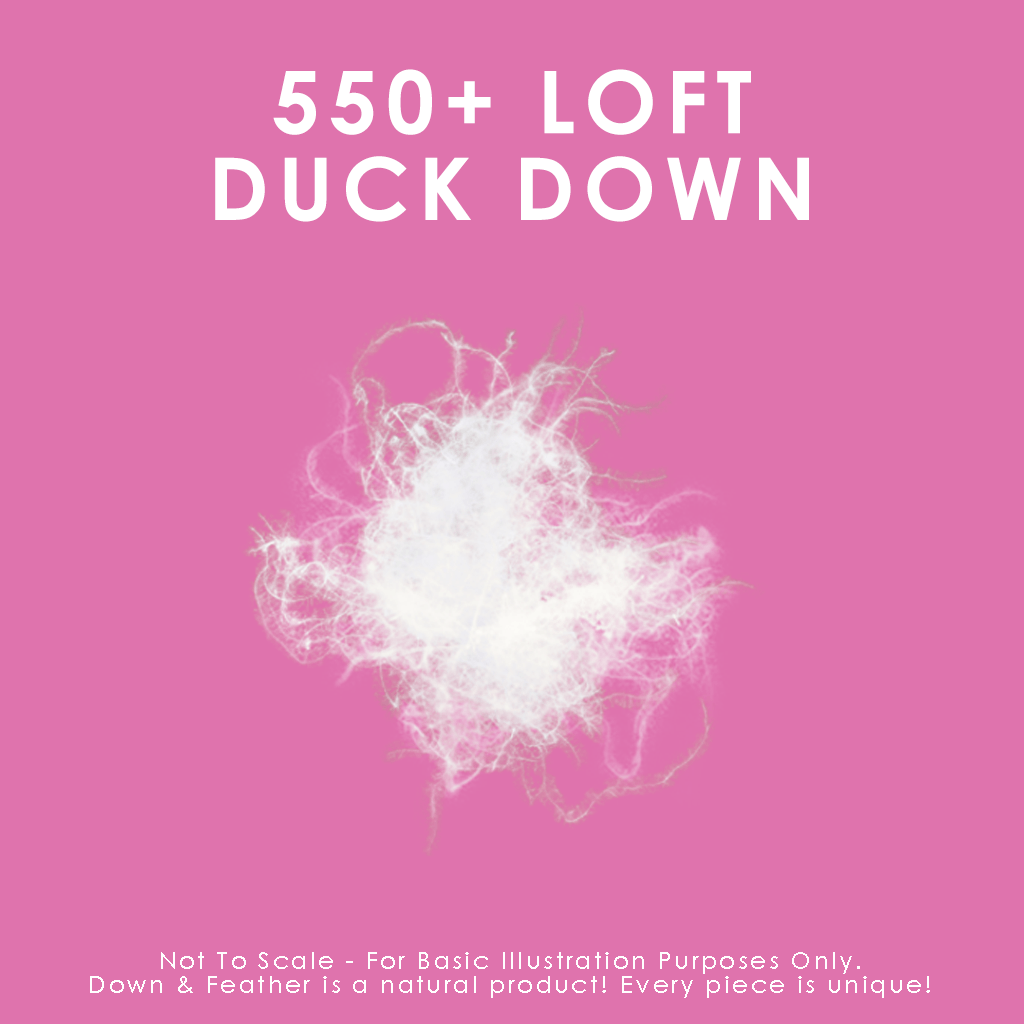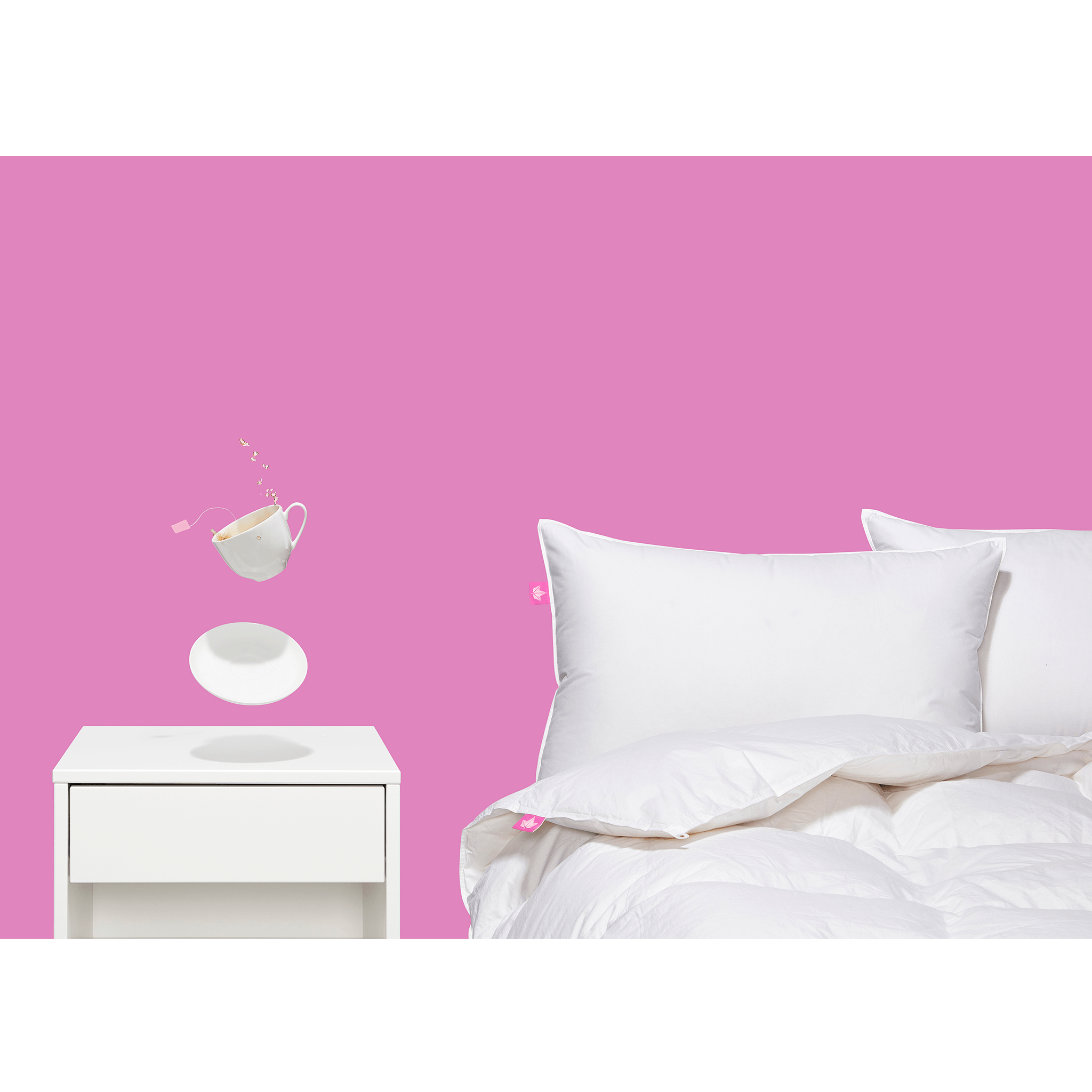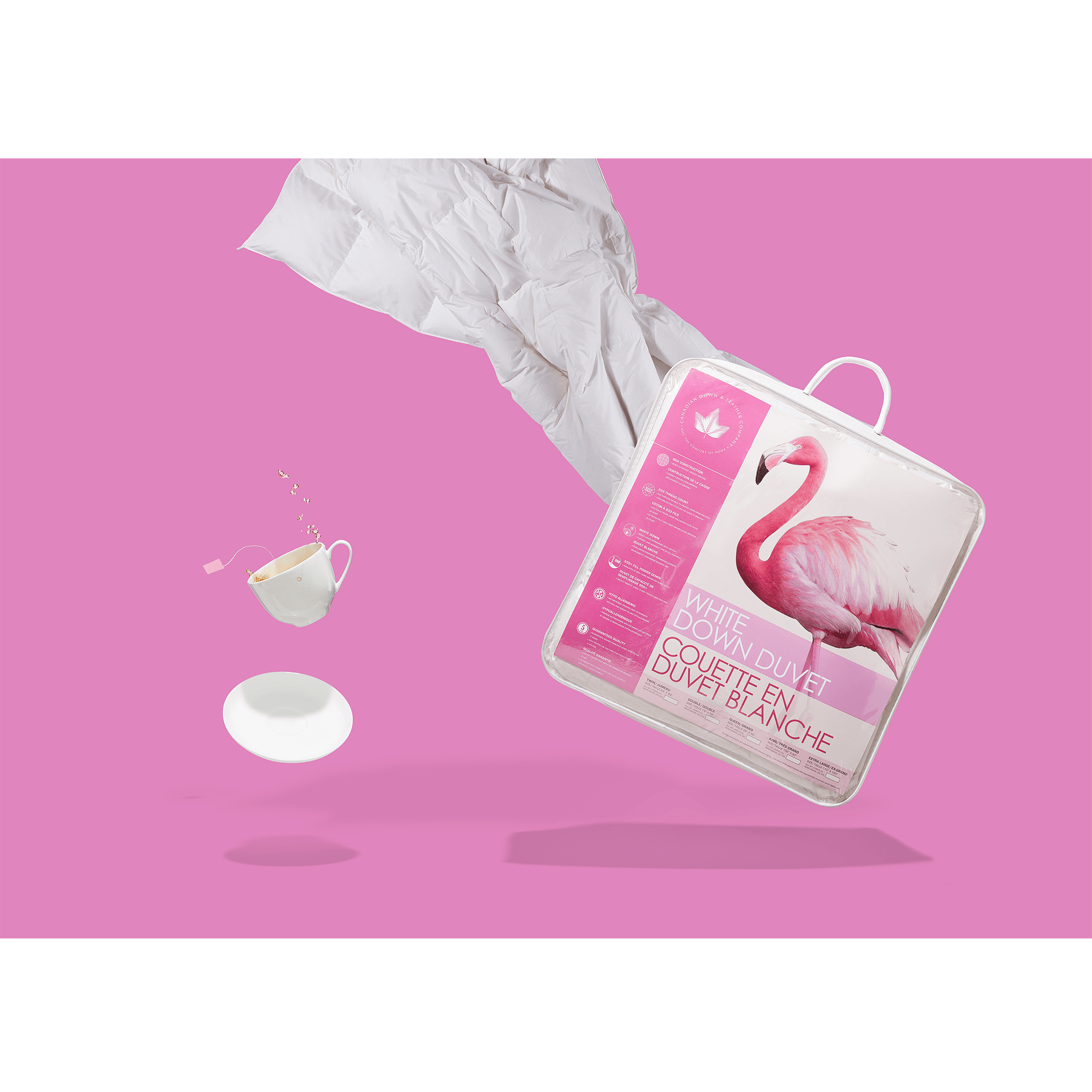 Sale price

$115.00 USD
Regular price

$144.00 USD
(/)
View details
What are the dimensions for the "shipping" size of the twin down duvet

Our duvets are usually shipped in boxes measuring 18" x 18" x 8". This is for orders of single duvets! If you order multiple items, it might come in a different sized box!

Do you make duvets to fit a TWIN XL bed?

I'm afraid we don't! Perhaps we will down the road.

What is white down consisted of?

Duck down :)

What is this product classified in terms of weight? Regular, All season, winter?

This duvet comes in Summer, Regular, and All Season. To the right of the images, there's a drop-down menu where you can select your preferred weight! To see which duvets come in which weights, check out our Product Comparison Chart.

I'm looking for a summer weight duvet. I'm a warm sleeper even in the winter. I'm looking for something that will not make me too hot. I'm using a lightweight synthetic from ikea and it's too hot.

The Summer Weight option is recommended for room temperatures of 22C + or very warm sleepers. Down sounds like a better option for you, as it is very light and breathable! Synthetic fill is not very breathable and tends to trap a lot of warmth, which can cause over heating! You can also find the Summer Weight option in 3 of our other collections - White Goose Down, 625 Loft White Down and 650 Loft White Goose Down duvets. Feel free to reach out to our customer service team on chat, phone or email for more detailed information!

I am interested in a duvet cover for this duvet: Double, 78" x 86". I have a choice between these sizes: Double: 81" x 81"; Queen: 90" x 90". Which size of duvet cover would you recommend? The cover is made of cotton (so may shrink a little upon washing and drying), so I'm leaning towards the 90" x 90" size. Any advice that you would have would be much appreciated.

Neither of these sizes are ideal. They will either have empty space or bunching. Most people prefer a fuller look, and therefore the smaller size may be better, although you will have some buckling of the duvet inside the cover. If you do opt for 90 x 90, make sure the cover has corner fasteners to attach to the corner loops on your duvet. This will prevent the duvet from shifting around too much.

Is all of the down for this duvet from Canada?

Not necessarily! You'll find in the description that the product is made in Canada with domestic and/or imported materials. This means that materials may be from any of our suppliers (or a mix) depending on what we have in stock. We have suppliers in Canada, USA, Europe and Asia.