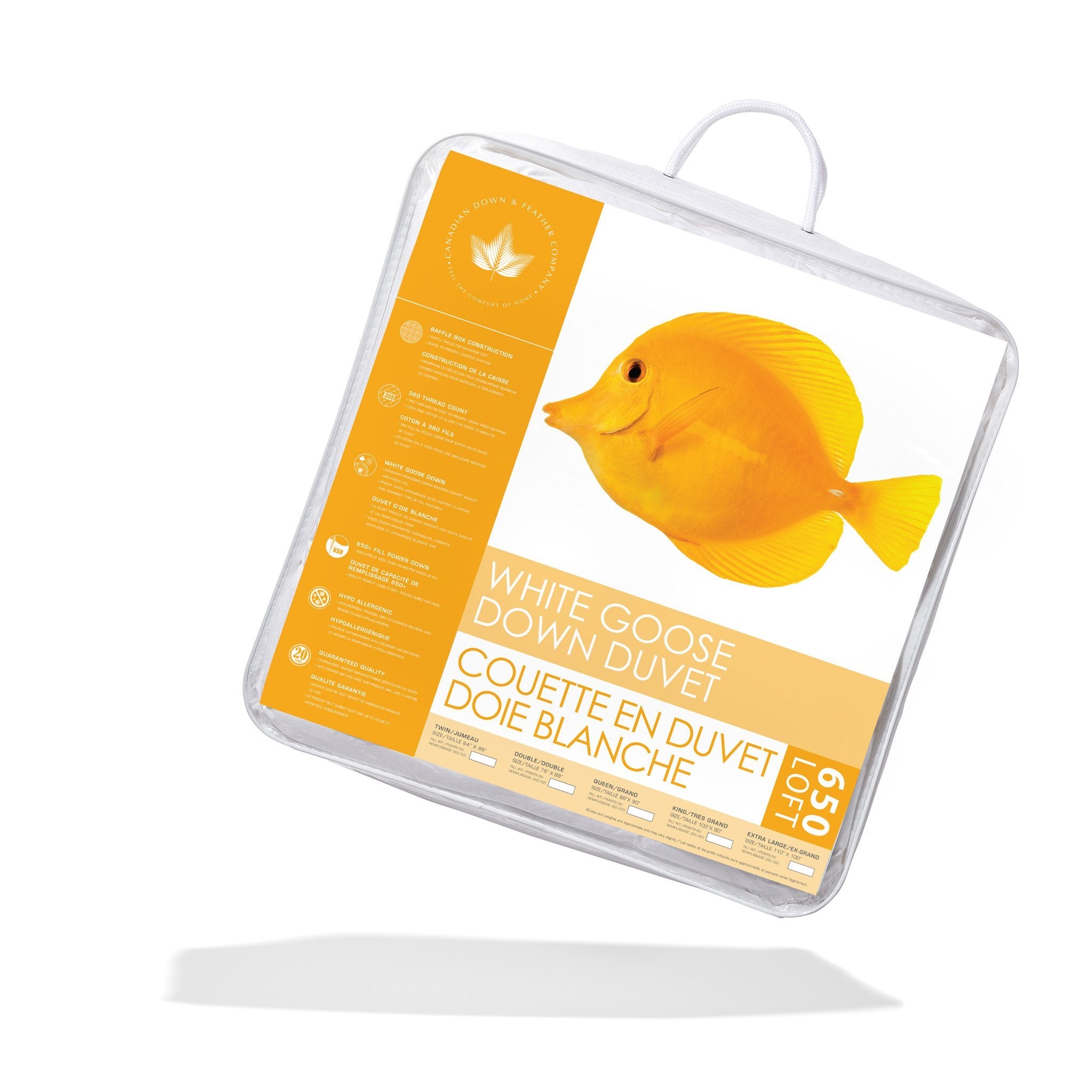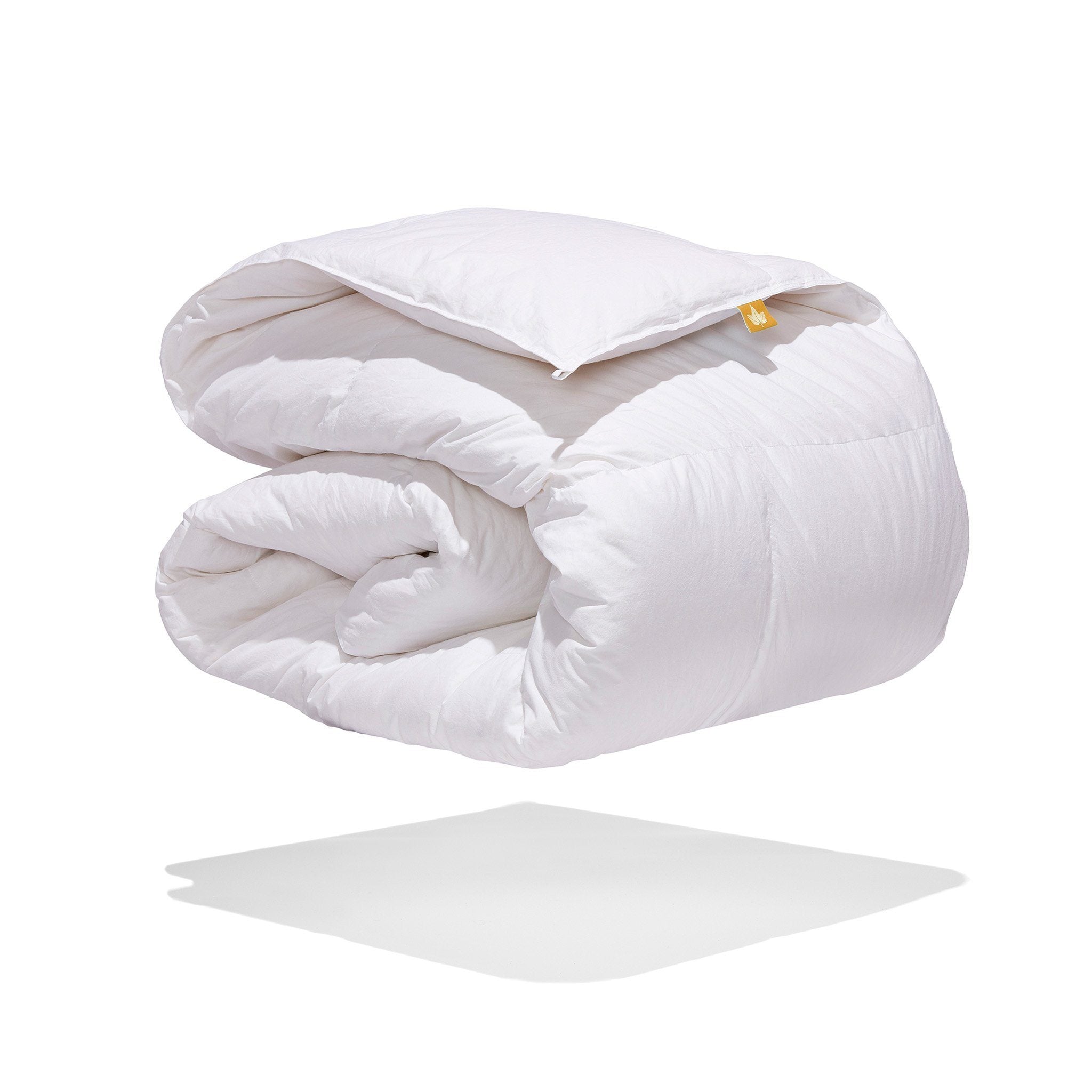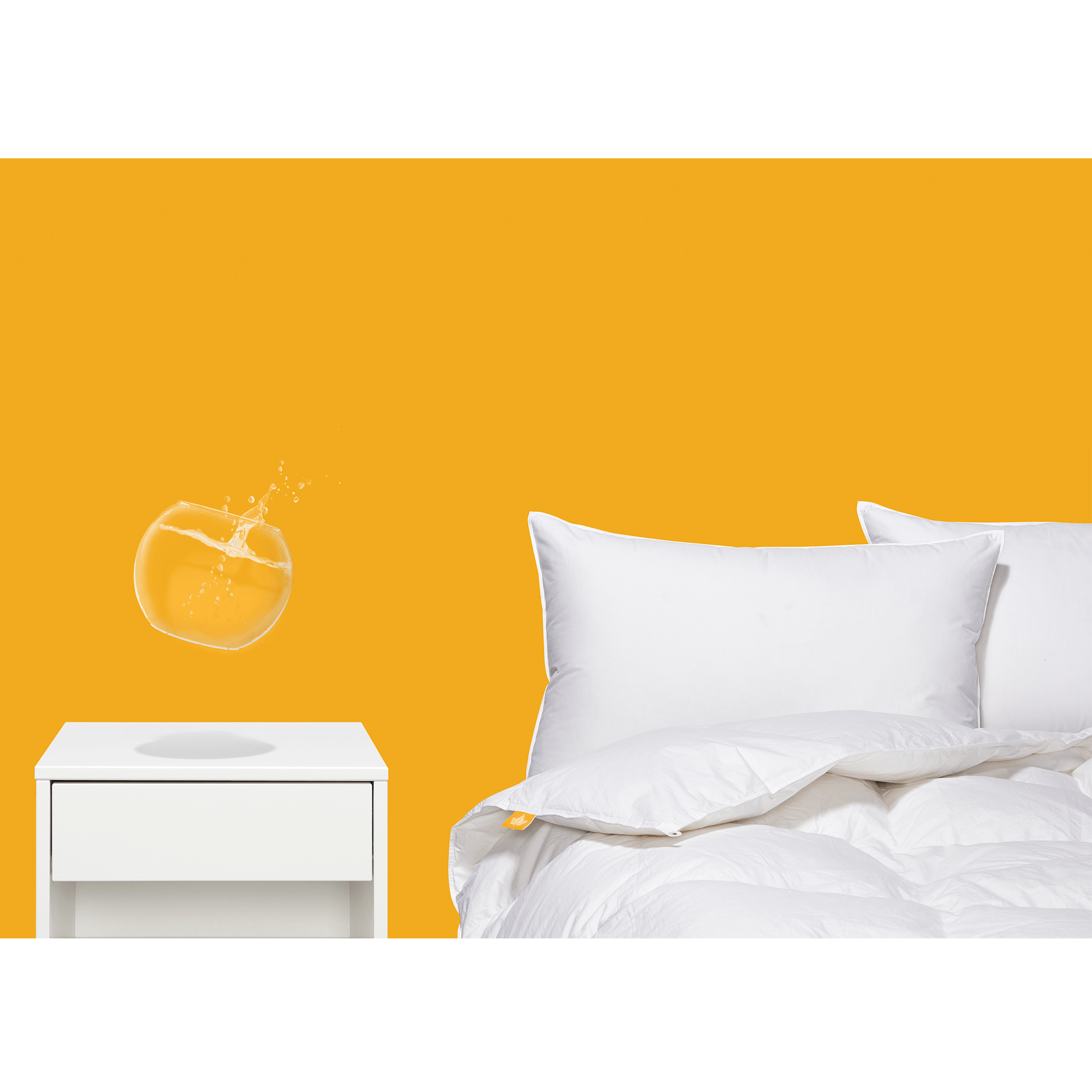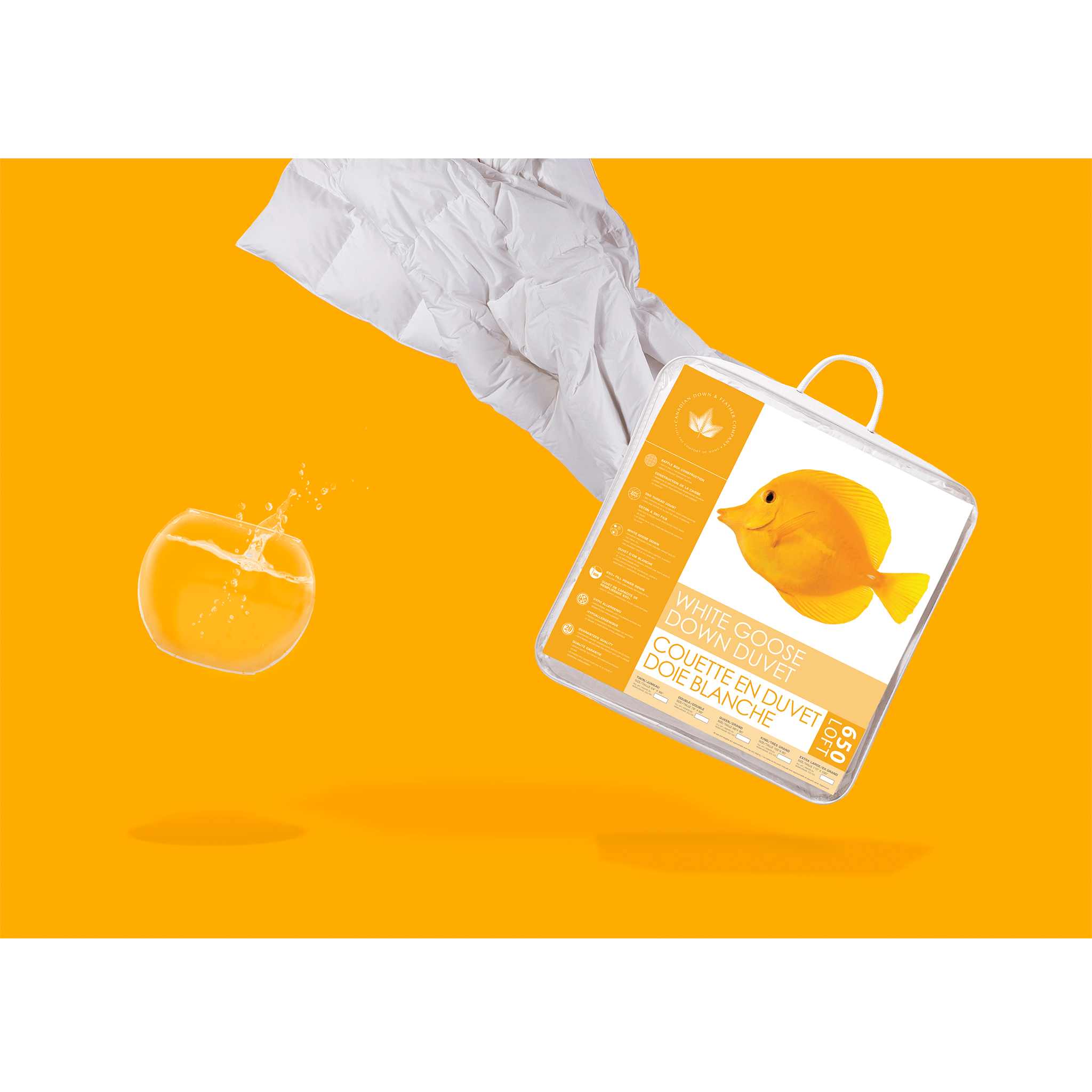 650 Loft White Goose Down Duvet
SKU: 63122
About This Product:
This duvet is filled with care in Canada. The cotton shell is 360 thread count, so it is soft and quiet. The duvet is filled with 650 loft goose down. Down fill is soft and luxurious, made up of tiny, fluffy clusters. This duvet is fairly lightweight, but you'll find this duvet contains more fill than a duvet with 700 or 850 loft down. This is because the higher the loft of the down, the better the insulating properties, and the less of it we need to achieve the desired warmth level! Conversely, you'll find it has less fill than a duvet with 550 or 575 loft down.
Summer Weight is great for hot sleepers or room temperatures are 22 degrees C or higher. Opt for Regular Weight if your room temperature is around 19 – 21 degrees C or if you're fairly warm when you sleep. All Season Weight is best if your room temperature is 16 – 18 degrees C or if you're a cooler sleeper. Winter Weight works best for very cold room temperatures. This duvet is one of only two duvets offered in Winter Weight!
Features:
Baffle Box Construction: Baffle Walls for maximum Loft / Boxes to prevent content from shifting
360 Thread Count: Prevents Down from escaping
100% Cotton: Fine cotton allows the down to breathe
Corner Loops:

 

Loops on all 4 corners to tie and anchor the duvet in place
White Goose Down: Canadian processed down ensures highest quality & fresh fill
650+ Fill Power Down: Insulates and lofts 650+ cubic inches per ounce of fill
Hypo Allergenic: Anti-Microbial process used to eliminate bacteria
Guaranteed Quality: Guaranteed against manufacturing defects for 20 Years
RDS Down:

 

Certified by IDFL 005891

Filled in Canada with domestic and/or imported materials
Helpful Links:
Guide to Duvet Warmth & Weight
Duvet Buying Guide
Difference Between Down & Feather
Compare All Duvets
Learning Center
Choose options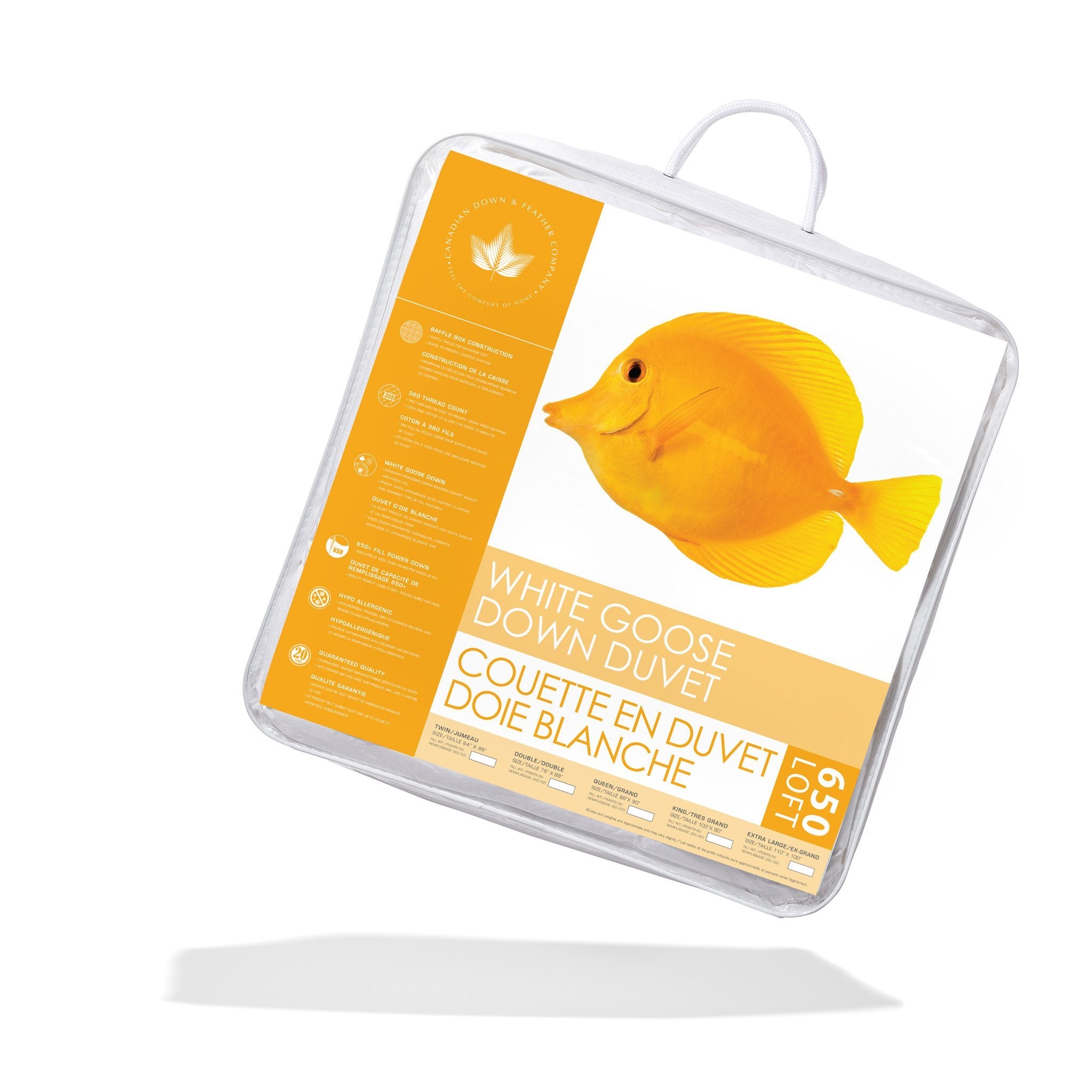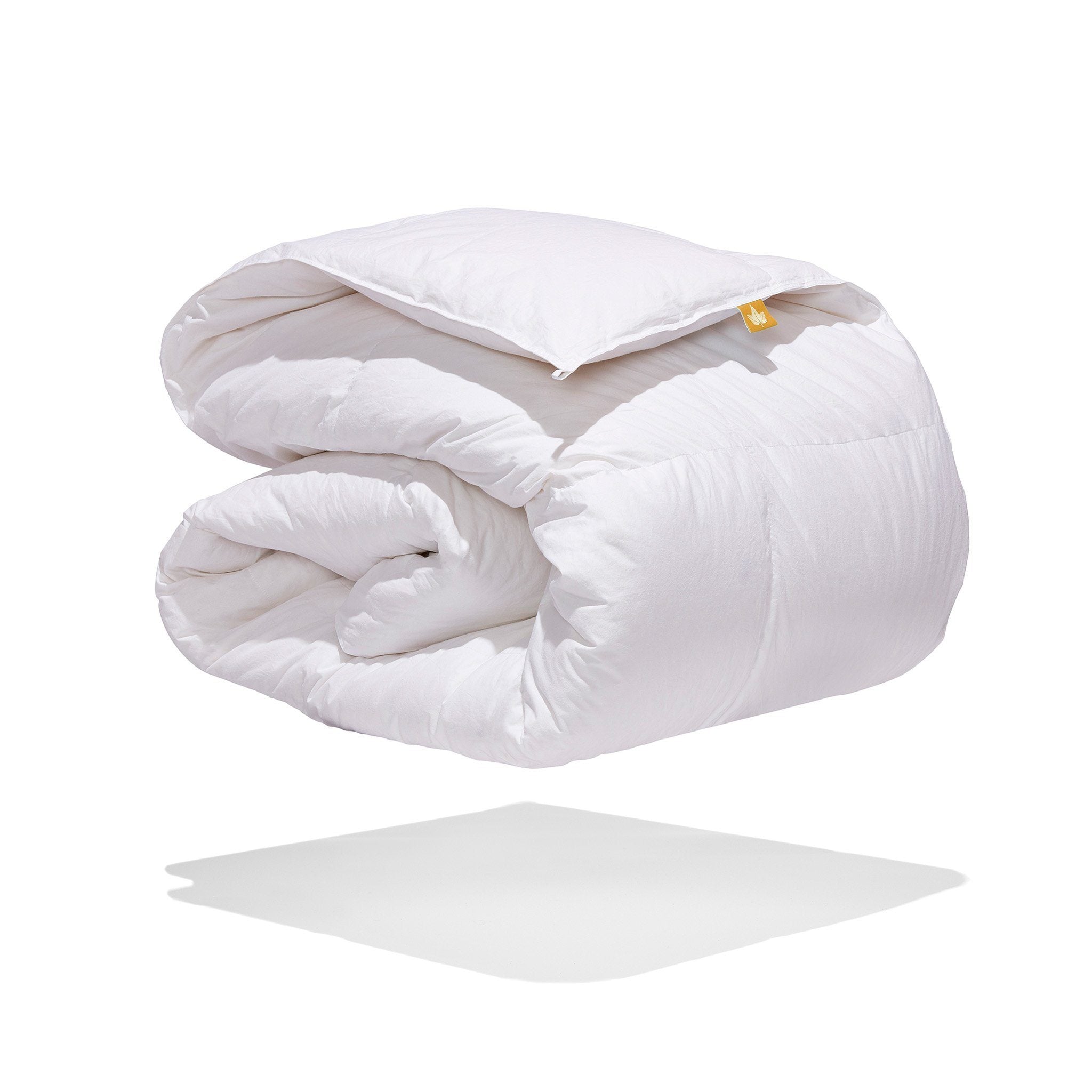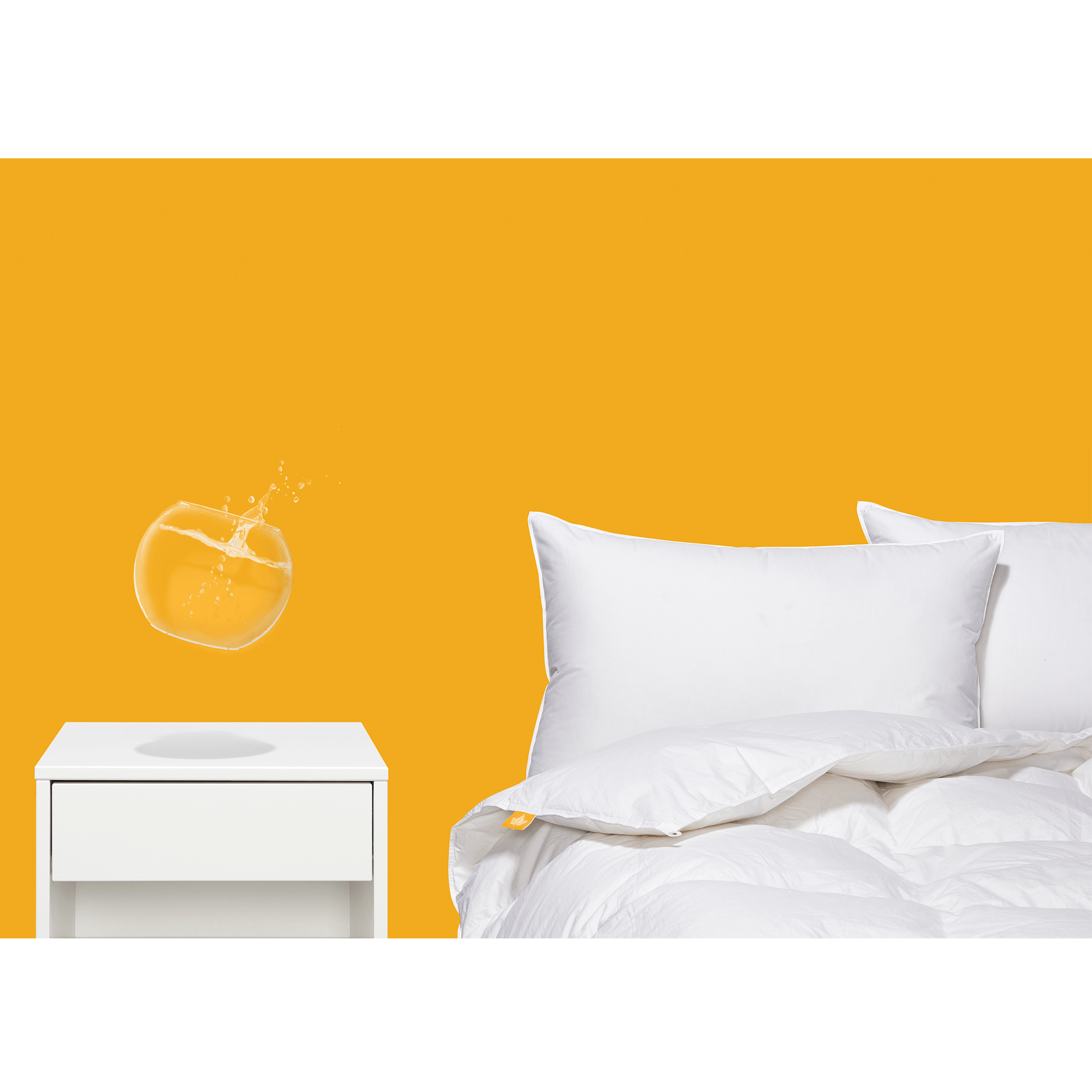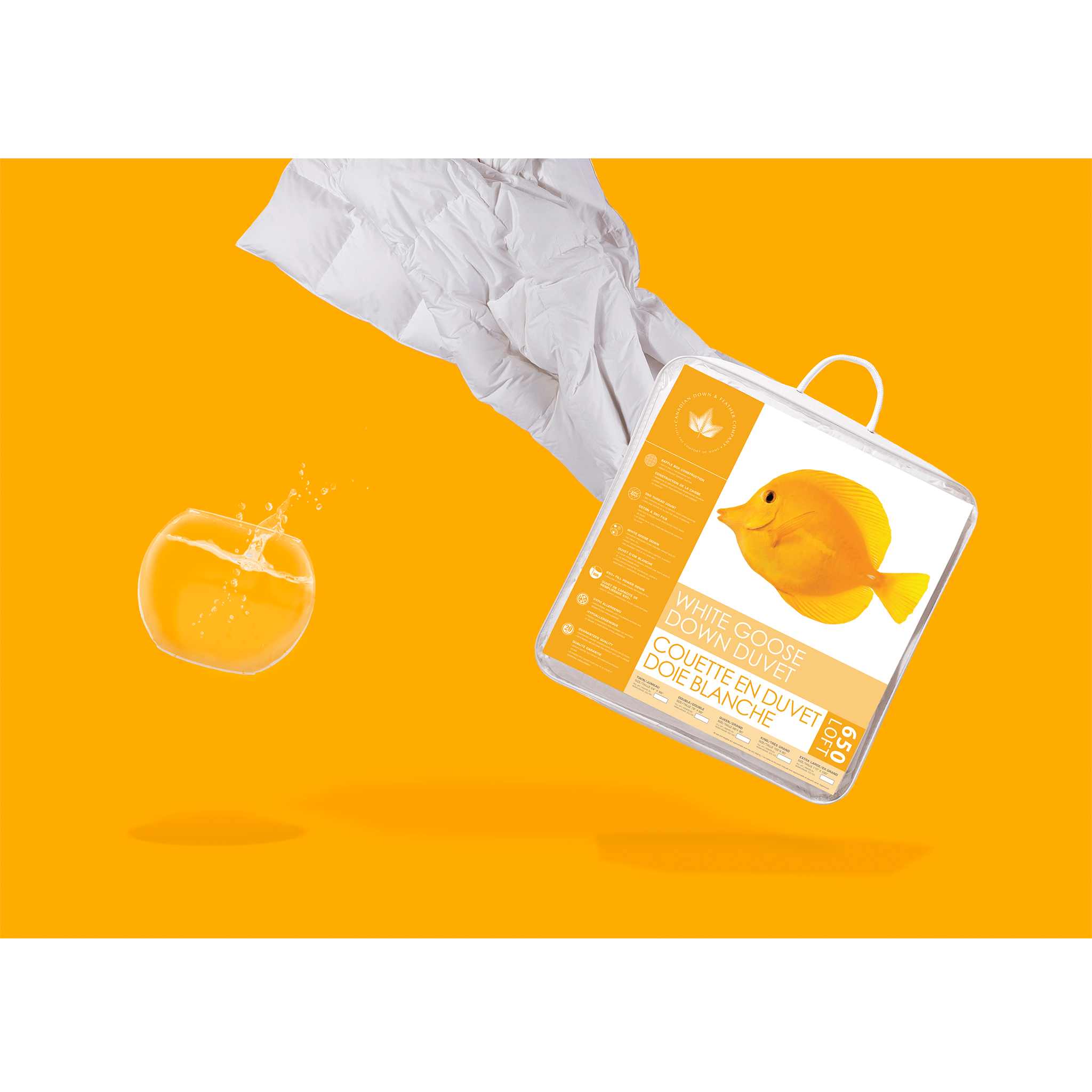 Sale price

$165.00 USD
Regular price

$235.00 USD
(/)
View details
Does this duvet make a crunchy or crinkly sound when you move it? I have found some duvets to be "noisy" when moving around, and want to ensure I get a duvet that doesn't make that sound.

This duvet has a thread count of 360 which is fairly soft and quiet. Noisy fabrics are generally lower than 300 TC. The higher the thread count, the softer the shell. Of course, this is on a continuum, so the 360TC will be quieter than the 260TC, but noisier than the 400.
You can read more about thread count here: https://www.canadiandownandfeather.com/blogs/articles/thread-count
You can compare the thread count of different duvets, here: https://www.canadiandownandfeather.com/pages/product-comparison-chart#duvets

I just received this and not very happy with how thin it is since I ordered the winter one. Does it fluff up when taken out of the bag?

Absolutely! Down traps a lot of air, and that air is squeezed out of the product when packaged. The product will loft up to its full potential after 24 - 48 hrs of being laid out. That being said, down is a very high performance material with excellent insulating properties - just a small bit of fill goes a long way in terms of warmth! The hallmark of a high quality down duvet is lightweight warmth.

It sounds just what I'm looking for but does this one go on sale? I can't spend that much, looking to spend 200 with taxes included

All of our products go on sale periodically throughout the year! Please sign up for our newsletter at the bottom of the homepage to be notified the next time a sale starts!

Do you offer duvets in a size smaller than twin? I would like to put two duvets on a king size bed but two twin duvets will overlap/overhang too much.

Hi there!
Unfortunately, we don't offer any sizes smaller than a Twin!

Are your duck and goose down duvets, such as this 650 loft or the 700 loft 100% down or are the outer feathers with quills and such used as well? It seems that a mixture of materials is common with other brands but it is usually opaque as to what that mixture is.

Our down products feel like all down, but they're actually not. A down product is never 100% down (It is actually illegal to advertise a product as 100% down!). In order to label it a down product, it has to be at least 75% down. Higher end products, like the Hutterite, are likely around 85-90% down, but it's not possible to determine the exact percentage in every product. The remaining percentage can be made up of down filaments, feathers, feather filaments, etc.

Here is some additional information: https://www.canadiandownandfeather.com/pages/pure-vs-blends

Why are the summer weight duvets only offered with lower thread-count shells?

Great question! It has less to do with the fabric, and more to do with the loft of the down. High loft down has very powerful insulating properties - just a small amount of down goes a long way in terms of warmth. We can make summer weight duvets with high loft down, but they would be quite empty and flat-feeling. We don't believe you would get the luxurious feeling you expect when using a high end duvet. Lower loft down is more suitable for making summer duvets, because it's still soft and airy, but doesn't have quite the same insulating power, and therefore, we can fill these duvets a tad more without generating too much warmth. (Of course, summer weight duvets are still relatively light and thin compared to the heavier all season, no matter the loft.)

Our lower loft down duvets tend to be paired with lower thread count shells because typically folks are looking for a certain price point. If you're looking at a mid-range down, it's most likely you're looking for a mid-range shell as well!

The 360 thread count shell on this product is relatively soft - you shouldn't find it too crisp or noisy! However, we will also make note of your request for higher thread count summer weight duvets for our future plans. 

We have the regular weight and found it too warm during the warmer weather spell we just had but perfect for winter. We love the duvet construction and the fantastic duvet cover we purchased from you. We are considering purchasing the summer weight duvet for warmer weather season. My question is, is the summer weight marginally or very noticeably less warm to be under.

The summer weight is lighter and less warm, but perhaps marginally so. Where the Regular Weight is good for room temps of arund 19-21, Summer is good for 22C or above. However, of course, if you're sleeping in very hot temperatures, a down duvet just may not be right for you.

Will a 650 loft be fluffier than a smaller loft count?

Yes and no. If you take 1 ounce of 650 loft down and compare it to 1 ounce of lower loft down, the 650 loft will be fluffier. Higher loft down has larger, fluffier clusters - the down itself is fluffier! However, higher loft down is also more insulating. The higher the loft, the more warmth it provides. Thus, we have to put more lower loft down in a duvet / less higher loft down in a duvet to achieve the desired warmth level. 
Lower loft down = less fluffy per ounce, but more of it in the product.
Higher loft down = fluffier per ounce, but less of it in the product.
So it kind of evens out, and you'll find our duvets are quite similar in fluffiness across all lofts. As long as the warmth level is the same, they're about the same fluffiness. For example, all Summer Weight duvets are a similar fluffiness, regardless of loft.

May I know that where are these 650 loft white goose down come from?

This product is Filled in Canada with domestic and/or imported materials. We have suppliers in Canada, USA, Europe, and China. The down may come from any of these places (or a mix) depending on what we have in stock! If you're interested in Canadian fill, check out our Canadian Hutterite products :)

Where is this 650 loft white goose down come from??

This duvet is filled in-house! Our factory is in Toronto.

Hello, is there much difference between this duvet and the 625 loft down summer weight duvet? I sometimes sleep hot at night but still like a little lightweight coverage on me during summer and warmth in winter. Thanks.

There's virtually no difference between the 2 products. They're the same weight and warmth levels. There's a slight difference in loft, but nothing significant. The only other difference is the species (goose vs duck).